LONDON, (Reuters) – It took less than two brutal  hours at Wimbledon yesterday to disprove the theory that Serena  and Venus Williams could march back to continue their domination  of the grasscourt slam having hardly swung their rackets in  anger for months.
First defending champion Serena was bundled out in the  fourth round 6-3 7-6 by livewire Frenchwoman Marion Bartoli then  five-times champion Venus was destroyed 6-2 6-3 by Bulgarian  Tsvetana Pironkova.
World number one Caroline Wozniacki also departed but the  Manic Monday carnage did not extend to the men's singles  although defending champion Rafa Nadal suffered a major injury  scare during a scintillating late evening win over Juan Martin  del Potro in front of a captivated Centre Court crowd.
Nadal won 7-6 3-6 7-6 6-4 while six-times champion Roger  Federer lost his first set of the tournament in beating Russian  Mikhail Youzhny as home flag bearer Andy Murray and world number  two Novak Djokovic sauntered through in straight sets.
Nadal needed lengthy treatment on a mystery foot complaint  at 6-6 in the first set and admitted he feared at the time his  title defence was over.
"It felt terrible at 6-5," Nadal, who extended his Wimbledon  winning streak to 18 matches, told reporters. "It felt like I  had broken my foot, I didn't know if I could continue playing."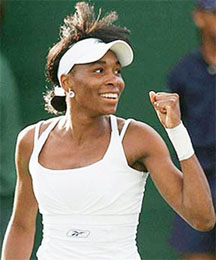 The 25-year-old will have an MRI scan to assess the damage.
Australian Bernard Tomic continued his memorable run, the  18-year-old thrashing Belgium's Xavier Malisse to become the  youngest player to reach the men's quarter-finals since 1986.
Wozniacki's shock 1-6 7-6 7-5 loss to Slovakia's Dominika  Cibulkova came in the immediate aftermath of the double Williams  bombshell and left 2004 champion Maria Sharapova as the clear  favourite for the title after the Russian fifth seed overpowered  China's Peng Shuai 6-4 6-2.
Serena, who returned from 11 months out with a lacerated  foot and then life-threatening blood clots just in time for  Wimbledon, spent the first three rounds shaking off the rust and  appeared to be rediscovering the firepower that has brought the  29-year-old 13 grand slam titles.
Once again she scrapped like an alley-cat but the unorthodox  Bartoli, beaten by Venus in the 2007 final, proved a match too  far for the champion whose hopes of three consecutive titles  evaporated in oppressive heat on Court One.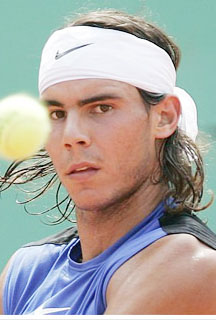 After defeat, though, she fired out an ominous warning to  her rivals and anyone preparing to write her off.
"Even today I lost, but I was able to kind of hang in there  and play tough," Williams, who was watched by friend and soul  diva Beyonce, told reporters. "And I can only get better. And  that can potentially be really scary, because I can only go up  from here and I can just do so much more."
Bartoli appeared to be playing with fire at times, jumping  around inside the baseline as her opponent wound up her mighty  serve and fist-pumping towards Williams after big points.
FIDGETY MOMENTS
She carried it off, though, claiming her first victory over  the American on her fifth match point after some fidgety moments  for father and coach Walter, who Bartoli had banished from court  on Saturday.
While Serena at least went down fighting, 31-year-old Venus  produced a lame performance against Pironkova, the player who  stopped her in the quarter-finals last year.
"Unfortunately I seem not to have my good days against her,"  Venus said. "I think we both envisioned seeing this day going a  little bit different."
Bartoli will take on Sabine Lisicki today after the  German wildcard beat Petra Cetkovska while Pironkova faces Czech  Petra Kvitova, also a semi-finalist last year, after she clubbed  Yanina Wickmayer 6-0 6-2.
With Sharapova up against Cibulkova and Belarussian fourth  seed Victoria Azarenka playing surprise Austrian Tamira Paszek,  the quarter-final lineup is an all-European affair for the first  time since 1913.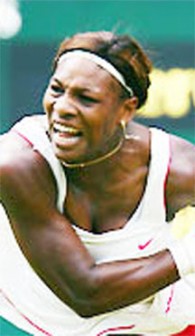 With all eight men's and women's last-16 matches slated on  the schedule the All England Club was abuzz from the moments the  gates swung open on a stifling morning.
The recently married Prince William and the Duchess of  Cambridge had the best seats in the house and would have given  their seal of approval to Murray's most impressive display this  year as he dismantled Gasquet in three sets.
Next in the number four seed's firing line as he aims to  become the first British man to win Wimbledon since 1936 is  Spanish left-hander Feliciano Lopez, who hit back from two sets  down to beat Poland's Lukasz Kubot.
Nadal's injury woes returned at the end of a high-quality  first set when the Spaniard grimaced in discomfort with  something clearly wrong with his foot.
After nearly 10 minutes of treatment, Nadal then went 3-0  down in the tiebreak but he fought back to take the opener when  an irritated Del Potro double-faulted.
Del Potro unleashed a barrage of forehands to batter Nadal  into submission in the second set and when the third went to a  tiebreak, the crowd sensed the outcome of it would be crucial.
So it proved as Nadal, scampering about and conjuring  astonishing angles, took it and then broke for the first time in  the fifth game of the fourth set to subdue the 24th seed and  book a last-eight slot against last American standing Mardy  Fish, an easy winner against 2010 runner-up Tomas Berdych.
Djokovic, who can replace Nadal as world number one by  reaching the final, had a relatively stress-free workout against  Michael Llodra, dropping just nine games en route to an  intriguing quarter-final with young gun Tomic.
Third seed Federer had a jolt when he lost an opening set  tiebreak to Youzhny but was majestic thereafter, gliding through  the next three sets 6-3 6-3 6-3.
Next up for Federer is charismatic Frenchman Jo-Wilfried  Tsonga, who reached the quarter-final for the second year in a  row with a 6-3 6-4 7-6 win against Spain's David Ferrer.
Around the Web