BRIDGETOWN, Barbados, CMC – Another dramatic top order collapse saw West Indies tottering at the close after they had earlier toppled India for a disappointing 201, on the opening day of the second Test here yesterday.
The hosts closed on 30 for three, still 171 runs behind India, on a day when 13 wickets fell for 231 runs at Kensington Oval.
Opting to bowl first after winning the toss, fast bowlers Ravi Rampaul (3-38) and Fidel Edwards (3-56), along with leg-spinner Devendra Bishoo (3-46) all claimed three wickets apiece, to wreck India's innings.
The visitors were boosted by knocks of 85 from VVS Laxman and 53 from Suresh Raina after they had plunged to 44 for four at lunch.
Looking to ram home the advantage, West Indies were then undermined by India's seamers as openers Adrian Barath (3), Lendl Simmons (2) and Darren Bravo (9) all fell cheaply.
The Windies batting woes started when Barath steered an innocuous delivery from seamer Ishant Sharma to Virat Kohli at gully, with the score on three.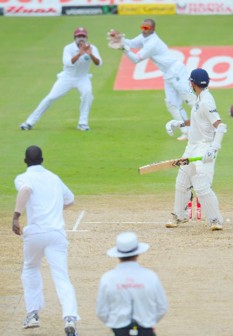 In the next over, Simmons followed him when he edged a beauty from pacer Praveen Kumar to be caught at the wicket for two at five for two.
Ramnaresh Sarwan and Bravo halted the slide with a 25-run, third wicket stand and looked to be taking the Windies to the safely of the close when the left-handed Bravo feathered a catch off one that lifted, through to wicketkeeper MS Dhoni.
Sarwan remained unbeaten on 10 and was partnered by nightwatchman Devendra Bishoo who was called on to survive one delivery following Bravo's demise.
Typically for this home international season, Rampaul gave West Indies an early breakthrough when opener Abhinav Mukund was caught at gully by Marlon Samuels for five, fending a short, rising delivery.
West Indies captain Darren Sammy added to India's troubles, when he had Rahul Dravid, a century-maker in the first Test, caught behind for five, leaving the visitors eight for two.
There was respite through a 30-run, third wicket stand stand between Laxman and opener Murali Vijay (11) but Rampaul, gaining appreciable bounce and prodigious movement under partly cloudy skies, struck twice in the penultimate over before lunch.
Vijay was caught behind swishing at a rising delivery down the leg-side at 38 for three and Virat Kohli faced two balls before gloving a rising ball to Sammy at second slip to depart without scoring, without a run added.
Laxman and Raina then spared India blushes with a 117-run stand that frustrated West Indies throughout the entire post lunch session.
The right-handed Laxman struck 12 fours off 146 balls while the left-handed Raina stroked seven boundaries in an innings that required 105 balls.
They took India to tea at 147 for four but Raina perished in the third over after the break when  he was caught at forward short leg off Bishoo, a decision the batsman seemed upset by.
His departure triggered another slide as India lost their last six wickets for 46 runs.
Dhoni clipped a simple catch to Shiv Chanderpaul at mid-on off Edwards at 167 for six and Harbhajan Singh fended off a snorter from the same bowler to be caught by Barath running from short leg to silly point.
The end then came swiftly as Laxman's vigil ended tamely when he cut Bishoo to Barath at point, Edwards yorked Abhimanyu Mithun without scoring and Praveen Kumar essayed one swipe too many and was stumped off Bishoo.
Scoreboard
INDIA 1st innings
A Mukund c Samuels b Rampaul                   1
M Vijay c wkp Baugh b Rampaul                 11
R Dravid c wkp Baugh b Sammy                   5
VVS Laxman c Barath b Bishoo                  85
V Kohli c Sammy b Rampaul                        0
S Raina c Barath b Bishoo                           53
*+MS Dhoni c Chanderpaul b Edwards          2
Harbhajan Singh c Barath b Edwards             5
P Kumar st Baugh b Bishoo                         12
A Mithun b Edwards                                     0
I Sharma not out                                           1
Extras (b5, lb4, w11, nb6)                           26
TOTAL (all out; 68 overs)                           201
Fall of wickets: 1-1 (Mukund), 2-8 (Dravid), 3-38 (Vijay), 4-38 (Kohli), 5-155 (Raina), 6-167 (Dhoni), 7-183 (Harbhajan Singh), 8-187 (Laxman), 9-189 (Mithun), 10-201 (Kumar).
Bowling: Edwards 19-2-56-3, Rampaul 16-6-38-3, Sammy 19-4-52-1, Bishoo 14-1-46-3.
WEST INDIES 1st Innings
A Barath c Kohli b Sharma                          3
L Simmons c wkp Dhoni b Kumar               2
R Sarwan not out                                       10
D Bravo c wkp Dhoni b Mithun                   9
D Bishoo not out                                         0
Extras (w5, nb1)                                         6
TOTAL (3 wkts, 12 overs)                         30
To bat: S Chanderpaul, M Samuels, +C Baugh, *D Sammy, R Rampaul, F Edwards.
Fall of wickets: 1-3 (Barath), 2-5 (Simmons), 3-30 (Bravo)
Bowling: Kumar 6-0-15-1, Sharma 4-2-8-1, Mithun 2-0-7-1.
Position: West Indies trail by 171 runs with seven wickets in tact.
Toss: West Indies.
Umpires: Asad Rauf, Ian Gould; TV – Gregory Brathwaite.
CMC kp/11
In Other Articles
Around the Web