During a simple ceremony, the winners of the Guyana Football Federation (GFF) Inter-Association Tournament Under-17 Competition, Georgetown, were rewarded by their association at the SleepIn Hotel.
The ceremony was attend by the new executive of the Georgetown Football Association (GFA) including its president, Lieutenant Commander, Vernon Burnett, Vice-Presidents Ivor Thompson (Administration) and Mark Phillips (Tournament Co-ordinator) along with parents, well wishers and coaches.
Head Coach of the side, Sampson Gilbert, who delivered the feature address, pleaded with parents to play active roles in their children's careers.
He opined that that support was crucial if the players were to stay in the sport and display the kind of discipline necessary to develop into top players. "Parents, I urge you here tonight not to neglect your role as the main supporter of your children. Your input is extremely important and relevant if they are to go on to become good players and more significantly stay in the sport."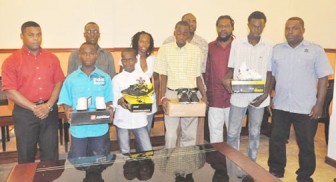 Burnett, speaking with the media, promised to maintain a database of the players in an effort to help guide their careers, especially those who have done well during the competition.
The president noted that it is critical to have such a record since it will enable the GFA to monitor the players' careers and assist in the development of the game by producing future stars.
Prizes were donated by Colors Boutique to be presented to the players which include boots and other related items to play the sport, while the coaches received stipends for their outstanding work in guiding the team to the title.
Around the Web