LONDON, (Reuters) – Mardy Fish bowed out to world  number one Rafa Nadal in the quarter-finals yesterday to end  American interest in the Wimbledon singles but in the shape of  Ryan Harrison the U.S. has hope for the future.
The 19-year-old is poised to move up by around 20 places  from his latest ranking of 122nd and after a five-set tussle  with seventh seed David Ferrer in the second round he is  brimming with confidence.
"I can play with anyone if I'm playing well," he told  Reuters.
"I feel like my game has the firepower to play with anyone.  I've had a couple of matches, against Roger (Federer) at Indian  Wells I had some chances in the tiebreak," he said of his 7-6  6-3 loss to the 16-times grand slam champion in March.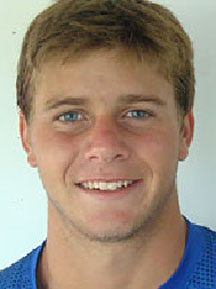 "Then against (Robin) Soderling at the French Open I had  some chances in the fourth set to push a fifth set, so I've had  some good matches against guys in the top 10."
Compatriots above Harrison in the rankings include American  number one and ninth-ranked Fish and 2003 U.S. Open champion and  his mentor Andy Roddick.
While fully aware Harrison has a long way to go, Roddick  said the youngster has what it takes to revitalise the game in  the U.S.
"He's got ability. He's got to harness that energy a little  bit. He goes a little mental sometimes. That's coming from me,"  joked the world number 10.
"I think it's between the ears at this point. He cares so  much about winning and losing, which I don't think we've had  enough of, frankly, in the States as far as the up-and-coming  players."
QUICK MOVER
Players at the summit of the modern game have outstanding  fitness levels and Harrison took pleasure from proving his  athleticism during the gruelling test against Ferrer.
"If I compare myself to the top four it's going to come off  as extremely arrogant. These guys have proven themselves time  and time again," he said.
"I feel like I'm a quick mover, like I'm fast, and I have  pretty good confidence in my athleticism. I was moving with  Ferrer, and he's considered one of the best movers, so I feel as  though the movement is not going to be a problem for me,"  Harrison added.
"Hopefully, not before long I'll make a real move into the  top 20 or top 10 in the world. I'm playing the highest level of  tennis which is where I want to be."
Harrison seems to have the assured demeanour of a top  sportsman and he said the Wimbledon run of peer Bernard Tomic  would bring out his competitive edge.
"When you have peers who are having success the next step is  to get in front of them," Harrison said of Australian  18-year-old qualifier Tomic's march to the quarter-finals.
"Tomic has a big year, so obviously that's going to motivate  me to play as well as I can and have that extra motivation on  days where you wake up and just don't feel like going to  practice and don't feel like doing the extra hour in the gym.
"If you're competitive you want to do as well as you can for  yourself but you also want to beat your peers."
As Federer, Soderling and Ferrer have found out recently,  it's not only Harrison's peers that need to look over their  shoulders as several new faces begin to make their mark.
Harrison cannot wait until the hardcourt swing begins after  Wimbledon, culminating in his home grand slam at the U.S. Open.
"I grew up playing on hard so it's going to be the best  major for me," he said. "I'm looking forward to my next  opportunity."
Judging from his Indian Wells performance this year where he  powered past then 49th-ranked Jeremy Chardy, world number 25  Guillermo Garcia-Lopez and Milos Raonic (37) to meet Federer in  the last 16, Harrison likes a home crowd.
Around the Web