BRIDGETOWN, Barbados, CMC – Just under two hours play was possible as rain wrecked the second day of the second Test between West Indies and India here yesterday.
A weather system in the area brought heavy downpours throughout the day at Kensington Oval and West Indies struggled to 98 for five in the 25.3 overs available, still 103 runs adrift of India's first innings total of 201.
Rain delayed the start by 45 minutes, returned during the lunch break to result in a late restart at 1:10 pm before the skies opened up again after 38 minutes of play to halt the Windies fightback.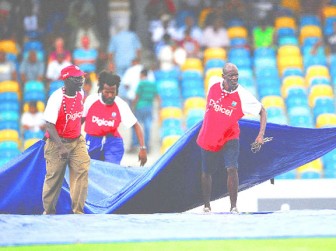 Players took the field at 3:35 pm in an attempted restart but the effort was aborted without a ball bowled as rain swept across the ground, ending play for the day.
At the close, Marlon Samuels (21 not out) and veteran left-hander Shiv Chanderpaul (20 not out) were leading a fightback after seamer Ishant Sharma (3-31) removed both overnight batsmen to reduce the hosts to 57 for five.
The pair have so far added 41 for the sixth wicket, a partnership that frustrated India's bowlers just when they seemed poised to run through the lower order with their usual gusto.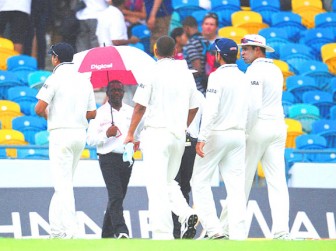 Resuming the day on 30 for three after the rain subsided, Ramnaresh Sarwan and nightwatchman Devendra Bishoo  defied India's seam attack in testing, overcast conditions to add 23 for the fourth wicket.
Sarwan, starting on 10, played and missed at a few which seamed generously and battled his way to 18 while Bishoo never appeared comfortable in reaching 13.
Bishoo eventually fell when he sparred at one outside off-stump and gave Virat Kohli a catch at the second of two gullies.
Two balls later, Sharma squared up Sarwan and trapped him lbw on the backfoot, to leave the Windies in a familiar hole.
Samuels and Chanderpaul then took West Indies to the safety of lunch at 82 for five but their rescue mission was disrupted disrupted by the weather.

Scoreboard
INDIA 1st Innings 201
WEST INDIES 1st Innings
(overnight 30 for three)
A Barath c Kohli b Sharma                               3
L Simmons c wkp Dhoni b Kumar                 2
R Sarwan lbw b Sharma                                   18
D Bravo c wkp Dhoni b Mithun                      9
D Bishoo c Kohli b Sharma                             13
S Chanderpaul not out                                     20
M Samuels not out                                             21
Extras (lb2, w5, nb5)                                         12
TOTAL (5 wkts; 37.3 overs)                       98
To bat: +C Baugh, *D Sammy, R Rampaul, F Edwards.
Fall of wickets: 1-3 (Barath), 2-5 (Simmons), 3-30 (Bravo), 4-53 (Bishoo), 5-57 (Sarwan)
Bowling: Kumar 17-3-39-1, Sharma 10-4-31-3, Mithun 8.3-3-18-1, Harbhajan Singh 2-0-8-0.
Position: West Indies trail by 103 runs.
Toss: West Indies.
Umpires: Asad Rauf, Ian Gould; TV – Gregory Brathwaite.
Around the Web