Technical Director of the Guyana's Lady Jags (National women footballers) US–based Mark Rodrigues has started a series of training camps locally aimed at identifying players for the National Under-17 squad in preparation for the Girls Under-17 World Cup preliminary competition.
Rodrigues who arrived in here last Saturday has already conducted sessions in Georgetown at the Carifesta Sports Complex ground Tuesday where selected players from the just concluded Scotia/Pepsi schools football academy attended.
Twenty four players were invited to take part in the one-day training camp on Carifesta Avenue while players from Lethem were to attend sessions yesterday at the St. Ignatius ground.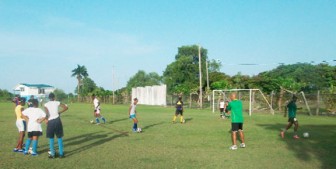 Rodrigues will travel to Bartica tomorrow for a training programme at the Bartica Community Centre ground while on Saturday he will be in Berbice for similar sessions while players in Linden will have their chance on Sunday at the Mackenzie Sports Club (MSC) ground.
Official of the Guyana Football Federation (GFF) disclosed that at the completion of the sessions a squad of 24 players will be shortlisted to prepare for the World Cup qualifiers.
Rodrigues is being accompanied by Director of the Lady Jags programme Colin Baker and GFF official Lawrence "Sparrow" Griffith.
It was disclosed that Rodrigues also visited Toronto, Canada in an attempt to identify players to represent Guyana in the upcoming engagements. A training extensive training camp is set for July 17-25 where the shortlisted players will be encamped for training and tryouts under the direction of Rodrigues and a coaching staff to be named shortly, Baker revealed. Guyana will host Anguilla and the Netherlands Antilles in the first round of the World Cup qualifiers from August 10-28. The first round comprises of four groups of three teams, with only the winners of each group advancing to the second round from September 20-29. The top three countries from the second round will then advance to the CONCACAF finals in later this year.
Around the Web