The inaugural Inter-Organization Basketball League is  scheduled to start today at the Burnham Outdoor Court from 17:00hrs following its launching yesterday by VP Sports Update at the Cliff Anderson Sports Hall (CASH).
The league which will run until July 31 will consist of sixteen teams divided into four groups that will see the best two teams in each group advancing to the quarterfinal round in the competition.
All games in the tournament will be played at the Burnham Court except for the semifinal and final which will be played at the CASH.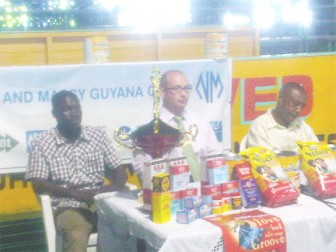 At a press conference yesterday it was disclosed that the teams will be battling for the top prize of $200,000 and a trophy while the second and third will receive $75,000 and $25,000 along with a trophy respectively. The Most Valuable Player (MVP) will receive $15,000 and a trophy.
"This tournament has come at a time when basketball is perishing but my main aim is to develop the court along with the Independence Park. I want it to move from one stage to the next whereas there can be multiple sports being played there such as volleyball, basketball and even some athletics," President of VP Sports Update, Vijay Panday told Stabroek Sport. Neal and Massy which is one of the main sponsors of the league and coincidentally the winner of this year's VP Sports Update Inter-organization Basketball Tournament was represented at the media briefing by  President of Neal and Massy's Sports Club, Stuart May.
"We are very pleased to be a part of the tournament and as you all know we had success in the last tournament and Neal and Massy is looking to repeat that victory.
"I think the fans will be treated to a spectacle and we hope for the success of the tournament," May commented.
Panday then thanked Neal and Massy for their support along with Banks DIH Powerade which is also one of the main sponsors of the tournament.
Panday also revealed that along with the League he will be starting a 'Teach them Young' programme for youths, primarily in the Cummingsburg, Kingston and Alberttown areas.
The clinic according to Panday will run simultaneously with the league as he will look to develop young players in order to produce better basketball players in the future.
Meanwhile when the league gets underway today Neal and Massy will feature in their first matchup against Son-Son Barbershop as they look to make it two VP titles in a row.
Around the Web