BRIDGETOWN,  (Reuters) – Coming from a country where  high-scoring batsmen are worshipped and spin bowlers adored,  Ishant Sharma has learnt the hard way that patience was the key  to success for an Indian fast bowler.   
But at 22 and with five years of international cricket  already under his belt, the towering paceman's resilience is  starting to pay off.  
 
Yesterday, he skittled the once-mighty West Indies in  Barbados, a notoriously fast pitch where India have never won a  test, taking career-best figures of six for 55. In the process, he captured his 100th test wicket in just  his 33rd test appearance and finished off the first innings with  wickets off successive balls to go into the second innings on a  hat-trick.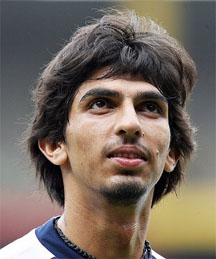 "When I started playing cricket. I obviously never expected  to be the fifth youngest to take 100 wickets in tests," he told  a news conference.  
"Especially because in the last five years I've seen so many  ups and downs. I've struggled with my bowling."   
First picked to play for India when he was just 18, Sharma  has long been recognised as a player of immense talent but it  has not all been smooth sailing. He has been dropped and  recalled several times and his form has fluctuated.
  
A genuine speedster who bowls at speeds in excess of 145  km/h (90 mph) and gets great lift and bounce from his 1.95 metre  (6 ft 5 in) frame, Sharma briefly experimented with slowing down  his pace to try and get more control, before realising he was  wasting his best assets. "Obviously, pace and bounce is my strength in bowling," he  said.  
"Even if I'm doing well with my swing, I don't want to lose  my pace and bounce."   
Sharma's success in the test arena has not always carried  over to the shorter version of the game where containment is  just as important as capturing wickets but he said he was happy  plying his trade in test cricket.   
"Everyone wants to be a test cricketer," he said.  "Especially as a bowler because if you don't bowl well in that  first spell, you get a chance to come back for a second spell or  a third spell.  
 
"I lost my pace and I lost my rhythm but now I've learnt to  stick to whatever your strength is. In test matches, you have to  be patient, that's why it's called test cricket."
Around the Web