(IAAF) Lausanne, Switzerland – Reigning World 400 metres champion Sanya Richards-Ross, who lines up tonight for Athletissima 2011, the seventh leg of this season's Samsung Diamond League, makes no secret that playing second fiddle to her more race fit   rivals is something she doesn't like.
However, the Jamaican-born star is adamant that her return to competition will see her career turn a corner for the better very shortly.
Richards-Ross, until an injury and a freak accident wrecked her 2010 season, had been the dominant figure in women's 400m running for almost half a decade. Despite the illness which sank her to fourth place in the US trials for Osaka 2007, putting her out of that World Championships' team for her specialist event, and the lapse at the Beijing Olympic Games when she was beaten into third place by Briton Christine Ohuruogu and Shericka Williams of Jamaica, Richards-Ross, the World Athlete of the Year in 2006 and 2009, had been the one to beat for five years.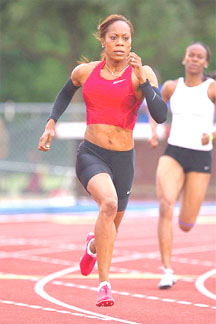 The 26-year-old after splitting Bahamian Tonique Williams-Darling and Ana Guevara of Mexico, the two most dominant one-lap performers of that era at the 2005 World Championships, gradually moved into the global driving seat for one-lap running.
Her transformation to World Number One effectively came when at the Golden League meeting in Zürich that year she ran 48.92 seconds, then in the following season's World Cup in Athens she smashed the 22-year-old US record with 48.70, the fastest time in the world achieved since France's Marie-Jose Perec won the 1996 Olympics final with 48.25.
Richards-Ross who won a share of the $1 Million Golden League Jackpot in 2006, 2007 and 2009, has a record of 40 times running under 50sec for the 400.
Now after the mishaps of last year the Jamaican-born star who became a US citizen in 2002 is determined to rekindle the form which made her the most feared of any track athlete but she is aware it isn't going to be easy.
"I'm getting into a better shape after missing last season with the injury I suffered and I think I'm surely but slowly getting there," she said on the eve of the Athletissima meet in Lausanne.
Speaking about the injury and bizarre accident when she slipped on a patch of water in Des Moines in June, Richards-Ross said: "I pulled my quad muscle in April of last year. I tried to get back for the US Nationals but I bruised myself and sprained my ankle."
"After the meet I went to talk with my coach and I fell out of the stand, I fell backwards on my tailbone. It was just better for me to call it quits and get ready for this year but it's definitely going to be tough."
Regarding  her comeback where she has yet to win a high profile 400, she said: "It is a very unfamiliar place for me to be and I don't like it!  It has proved a little bit tougher than I thought it would be to get back into racing shape."
But she acknowledged. "Some losses will make me humbler when I'm victorious again, back at my best. That's why I train very hard. After all my (past) defeats I've always come back better."
"So I just keep working hard, I know what I'm capable of running and so that's what keeps me motivated." Richards-Ross who will line up in Lausanne against a tough field including Williams and Botswana's Amantle Montsho, the current joint leader in this year's SDL schedule, added: "I don't want to promise a time – I just want to go out there and win. I do think the time will be a low 50 or a high 49 so my focus is that and it will be very positive for me."
"I'm very excited to being here. I think it will keep me motivated. I know I am prepared for what I have to do. I have really good memories of this track meet and I hope to create more tomorrow."
As defending World champion the retention of her title in Daegu (27 August-4 September) is  her top priority this summer: "I know the times will come. Yes, I'm feeling better. I was happy to run the 200 at the Nationals.  I think it is important to get my speedwork back where it was so I can run some fast 400s."
"I'll have four or five races before the World Championships so I hope I'll be back into 49 second shape and be prepared for Daegu."
She admitted: "I put pressure on myself, it will not come from the press or anybody else and so that's why I'm here – I'm running these races to prepare myself for Daegu." Richards-Ross with a bright smile on her face said of her marriage to New York Giants cornerback Aaron Ross in February last year: "Married life has been awesome and the pride and highlight of my life so far. He has really kept me encouraged through my return this season so I'm really glad."
With the 2012 Olympic Games around the corner and hoping to complete her set of gold medals, she said about children: "It's an on-going debate. We'll see how it goes into 2016! I don't think he'll wait that long so we'll have to see."
Around the Web