BRIDGETOWN, Barbados, CMC – West Indies failed to make a breakthrough in India's second innings before seasonal wet weather put the brakes on the second Test yesterday.
The hosts bid for a first innings lead against India were undermined by career-best bowling of six wickets for 55 runs from 21.5 overs from Ishant Sharma, as West Indies were dismissed for 190 about 55 minutes before the rescheduled tea break to concede a first innings lead of 11.
When bad light stopped play, India had reached 23 without loss in their second innings on a rain-marred third day, when only 42 overs in close to 3 ½ hours were possible.
Marlon Samuels finished with the top score in the West Indies innings of an unbeaten 78, but his hard work was throttled, when Sharma triggered a lower order collapse, becoming the fifth youngest bowler to take 100 wickets in Tests.
After Carlton Baugh Jr was caught at slip for two, giving off-spinner Harbhajan Singh his only wicket, West Indies appeared headed to the first innings lead, when their captain Darren Sammy joined Samuels, and they confidently added 43 for the eighth wicket.
Sammy was fortunate on 13, when Suresh Raina failed to hold an overhead chance off Praveen Kumar, but Sharma soon trapped him lbw for 15, taking the last three West Indies wickets in the space of six deliveries.
Ravi Rampaul and Fidel Edwards have both shown pretensions with the bat, but Sharma delivered two sharp bouncers to them, and third slip and wicketkeeper Mahendra Singh Dhoni, the Indian captain, were the beneficiaries of catches.
Before lunch, West Indies suffered a major setback, when Shivnarine Chanderpaul was dismissed in the penultimate over before the interval.
West Indies reached 138 for six at lunch, having benefitted from a valuable 77 for the sixth wicket between Chanderpaul and Samuels.
But Chanderpaul was bowled for 37, dragging a short delivery from Abhimanyu Mithuninto his stumps.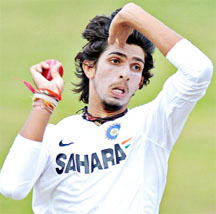 The West Indies pair had to endure a delay lasting just over an hour before they could continue from the overnight position of 98 for five.
Chanderpaul and Samuels resisted doggedly, enduring blows to the helmet from Sharma to steady the West Indies innings.
Samuels steered a delivery from Praveen Kumar between third slip and gully for his fourth boundary to usher in the 50-run partnership between the pair.
Chanderpaul top-edged a hook at a short, rising delivery from Sharma to the fine leg boundary, and Samuels further expressed himself with a cut through square cover off the same bowler from the delivery after he was struck before Chanderpaul's near four-hour long vigil came to a disappointing end.
West Indies trail 0-1 in the three-Test, after losing the first Test inside four days last Thursday at Sabina Park in Jamaica.
Scoreboard
INDIA 1st Innings 201
(V. Laxman 85; R. Rampaul 3-38)
WEST INDIES 1st Innings                        
(overnight 98 for five)
A. Barath c Kohli b Sharma    3
L. Simmons c wkpr Dhoni b Kumar    2
R. Sarwan lbw b Sharma                18
D.M. Bravo c wkpr Dhoni b Mithun    9
D. Bishoo c Kohli b Sharma               13
S. Chanderpaul b Mithun                37
M. Samuels not out                78
+C. Baugh c Dravid b Harbhajan Singh   2
*D. Sammy lbw b Sharma                15
R. Rampaul c Vijay b Sharma                 0
F. Edwards c wkpr *Dhoni b Sharma   0
Extras (lb3, w5, nb5)                13
TOTAL (all out, 73.5 overs)                                     190
Fall of wickets: 1-3 (Barath), 2-5 (Simmons), 3-30 (Bravo), 4-53 (Bishoo), 5-57 (Sarwan), 6-134 (Chanderpaul), 7-143 (+Baugh), 8-186 (*Sammy), 9-190 (Rampaul)
Bowling: Kumar 23-3-67-1; Sharma 21.5-7-55-6 (nb2, w5); Mithun 15-6-34-2 (nb3); Harbhajan Singh 14-3-31-1
INDIA 2nd Innings
A. Mukund not out                 8
M. Vijay not out      3
Extras (lb6, w5, nb1)                12
TOTAL (without loss, 5.4 overs)                                 23
Bowling: Edwards 3-1-13-0 (nb1, w5); Rampaul 2.4-1-4-0
Position: India lead by 34 runs with all second innings wickets standing
Around the Web