Anthony Downes defeated defending champion Jeremy Miller in stunning fashion to provide a fitting finale in hoisting the Guyana Bank for Trade & Industry (GBTI) tennis open Men's Single title on Thursday evening at the company's Recreational Centre.
The final score read 7-6 (5), 4-6, 6-3 to Downes and it marked the first major title for the talented overseas-based 19-year-old.
The match started off with Downes and Miller trading ground strokes from the baseline with the occasional advance to the net by Downes. Tied at 4-4, Downes showed his experience by holding serve at love to put pressure on Miller to stay in the set.
Miller was up to the challenge and produced a big game of his own to tie the set at 5-5. On his next service game Downes switched it up by serving and volleying to put away the game easily with his trademark swinging forehand volleys. Miller again responded on his service game by hitting two winners on a forehand and lob to force the tie-break.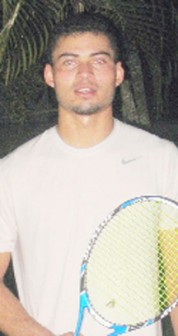 The tie-break was fiercely contested with both players going for winners. A marathon rally which saw Downes running down a lob and eventually winning the point allowed Downes to tie it up at 3-3 before Miller again went ahead 5-3 as he hit down the line backhand passing shot.
Miller on his first service game in the second set quickly faced three break points as Downes hit three return forehand winners. Miller saved the three break points and won the game to tie 1-1. Downes' forehand then became dominant as he punished the short backhand slices put up by Miller.
Downes could not be stopped as he played brilliantly at the net and repeatedly put away short balls with his swinging volleys to seize the next six games and win his first GBTI Open Men's Singles title.
The tournament ran for three weeks and featured matches in twelve categories. The presentation ceremony will be held today at 17:00 hours at the GBTI Recreational Centre.
Around the Web