BRIDGETOWN, Barbados,  CMC – Estranged West Indies opener Chris Gayle yesterday lamented his continued exclusion from the regional side, and has called on CARICOM to intervene in the impasse.
In an emotional statement, the Jamaican left-hander said that the standoff had been "painful and more injurious to my spirit" and while he remained committed to West Indies cricket, he felt as if he was being strung along by the West Indies Cricket Board with no resolution to the situation in sight.
Gayle has been overlooked for selection since his return from the Indian Premier League, with the WICB stipulating that he had to meet with them before being considered.
The meeting took place last month in Jamaica but according to the WICB, ended in uncertainty.
Gayle said since the failed meeting, he had made attempts to also to further resolve the standoff by writing to WICB chief executive Ernest Hilaire and then meeting again with head coach Ottis Gibson and team manager Richie Richardson, but to no avail.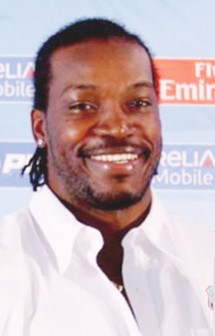 "I took the Board seriously and went to the meeting which was held in Jamaica a few weeks ago," Gayle said.
"The meeting ended without any commitment with regard to my future selection for the West Indies team again. I thought that was the purpose of the meeting and was foolish enough to believe that it would end with a decision about when I would be back on the team.
"Instead I have read about an incident between the President of WIPA Dinanath Ramnarine and the WICB CEO Ernest Hilaire that makes me question whether I was at the same meeting."
The meeting held on June 14 in Kingston was reported to be a contentious one with Ramnarine locking horns with Hilaire during the discussions.
Hilaire then presented a report to the Board of Directors at another meeting three days later, with the WICB announcing afterward that their management would "continue efforts to resolve the issues with Mr. Gayle".
Gayle, however, accused the WICB of not being serious about using the initial meeting to resolve outstanding issues.
"My contribution has been devalued and the fans of the West Indies who believe I can make a difference have had their hopes dashed," Gayle said.
"After the conclusion of this second meeting (with Gibson and Richardson), my suspicions were confirmed and it was now beyond doubt that there was never any real intention of resolving any issues concerning me at the first meeting … I have now reached the stage where I have to say that enough is enough."
The 31-year-old said the situation warranted the intervention of regional Heads of Government.
"I appeal to the Heads of Government of CARICOM to do something about this situation. West Indies Cricket is different from the West Indies Cricket Board," he charged.
"West Indies cricket and West Indies cricketers need help. Since you are the people who represent the fans and all the other stakeholders, it is time for you to act."
Gayle said while he was not about to quit West Indies cricket, he could not sit around waiting for West Indies cricket officials to sort out his future, and would continue to pursue his cricket interests elsewhere.
"My eyes are open, my heart is clean, my conscience is clear and the voice of reason is loud in my ears telling me that I should close this chapter in my life. I am not going to be the WICB's whipping boy," Gayle asserted.
"It is against this background that I have now decided not to wait on the WICB any longer but while I still have the time and the skills to explore the opportunities available to me elsewhere.
"I do it reluctantly but have no choice. I have people to take care of and cannot sit for months waiting on WICB CEO Ernest Hilaire and the Board."
Gayle was a huge hit in the Indian Premier League this year where he was voted Man-of-the-Series after blasting two centuries, to help fire Royal Challengers Bangalore into the final.
Only Thursday, Australian Twenty20 side Sydney Thunder announced it had signed him for Cricket Australia's expanded Twenty20 Big Bash starting at year end.
Around the Web