By Treiston Joseph
Guyana will field five sporting disciplines at the fourth Bolivarian Alliance for the Peoples of Our America (ALBA) Games scheduled to take place in Venezuela from July 17-30.
At a press conference held by the Ministry of Culture, Youth and Sports yesterday at its head office on Main Street, it was revealed that the five disciplines will be Track and Field, Boxing, Cycling, Karate and Table Tennis.
Guyana will attend the Olympics-style meet for the first time and will have a total of 29 athletes participating along with seven officials, according to Minister of Sports, Dr. Frank Anthony.
"Well Venezuela invited us and we as the government played a convening role by setting up a committee that placed the necessary measures in place. We came up with a list of 29 athletes and 7 officials that I think will do well at the games," Dr. Anthony stated at the conference. Stabroek Sport also learnt that the team will be travelling overland to Venezuela and upon arrival at the border the Venezuelans will take charge of transportation and accommodation for the team.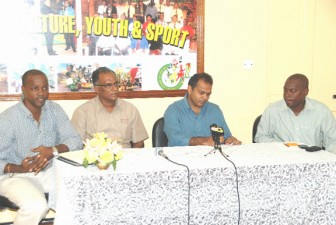 "It's  very good that we will have such a large contingent participating, we have the best athletes in the different sporting disciplines going and I know that they will do well.  It's just an opportunity for our top athletes to prove themselves at a high level competition," Director of Sports, Neil Kumar stated.
Meanwhile, Permanent Secretary Alfred King endorsed boxing and distance running as the sporting areas to produce medals for Guyana. "It's important to note that we are likely to do well in boxing and in the 10K along with cycling. We have really good athletes in those areas to produce medals, I just have a sneaking suspicion that altitude will play a role in the level of performance," King told Stabroek Sport. Guyana's likely departure date for the games will be July 14.
Around the Web