LONDON, (Reuters) – Often overshadowed by his classic duels with Roger Federer, Rafa Nadal's rivalry with Novak Djokovic has been brewing slowly and it will come to the boil today when the world's two best players contest the 125th Wimbledon men's final.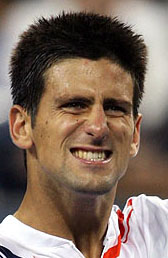 The dream showpiece pits Djokovic, the man the ATP computers will show is the new No.1 in the rankings tomorrow, against the bullish Spaniard who is showing every sign that he can chase down Federer's record of 16 grand slam titles.
While Andy Murray briefly raised hopes that Britain would have its first Wimbledon men's finalist for 73 years by leading Nadal in the semis, there is no doubt that the final is befitting the sport's blue-riband tournament.
Djokovic trails their series 16-11 but during a remarkable year for the Serb winning-machine he beat Nadal in consecutive finals in Indian Wells, Miami, Madrid and Rome.
While the first two in that burst were on his favoured hardcourts the latter were on Nadal's beloved red dirt.
Should he prevail on Centre Court's lawn today and become the first player to beat Nadal at the All England Club since Federer in the 2007 final, it would rubber-stamp Djokovic's lofty new status more effectively than ranking points.
The 24-year-old has never beaten Nadal in a best of five set match, however, and he knows that the Mallorcan will be sweating blood to claim a second consecutive French Open/Wimbledon double.
"I'm ready for long rallies, long points," Djokovic, who will fulfill his boyhood dream by playing in his first Wimbledon final, told reporters.
"I need to be physically ready, which I am. I feel fit in this moment, and mentally obviously motivated.
"The four times I won against him this year can probably help me in some ways mentally prior to this match."
Around the Web