LONDON, (Reuters) – Dinesh Chandimal stroked an  unbeaten 105 to help Sri Lanka to a convincing six-wicket win  over England at Lord's yesterday as the tourists took a 2-1 lead  in the one-day series.
The 21-year-old Chandimal hit his total off 126 deliveries  as Sri Lanka comfortably chased down the 246-7 set by England,  whose innings was held together by captain Alastair Cook's  century. Sri Lanka reached 249-4 with 10 balls to spare after Mahela  Jayawardene followed his hundred in the previous one-dayer with  a 79 from 77 balls that included nine fours and set them firmly  on track. Cook, like Chandimal, scored his second one-day  international century, and his first since being appointed  captain in early May, but his 119 was not enough to make up for  his team's otherwise below-par showing with the bat.
There were a few frustrated faces among the Sri Lanka  contingent sitting on the balcony as Chandimal and Angelo  Matthews took their time in the closing stages as the pair  sought to ensure the former made his century.
He finally achieved it with his second six, clearing long-on  off Tim Bresnan and settling nerves in his camp.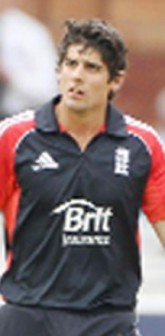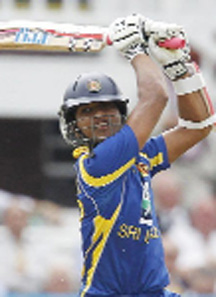 "We won comfortably in the end," Sri Lanka captain  Tillakartne Dilshan told Sky Sports before ruing the way his  team had closed out the game with Matthews patting back  deliveries so that Chandimal could make three figures.
"I was a little upset that it came down to the last overs,  but they are youngsters, they are learning, and I'm really happy  because we got a good win."  England had stuck with the same line-up that fell to a  69-run defeat at Headingly on Friday and will now face fresh  calls for changes before Wednesday's fourth match of the  best-of-five series at Trent Bridge. Cook won the toss and elected to bat, leading by example  with his knock having made the most of a let-off after being  dropped at first slip having made 15.
He was dropped again soon after bringing up his hundred from  127 balls in the 44th over with a push to mid-on off spinner  Suraj Randiv. He was finally run out for 119 after being called  through for a quick single.
England had lost Craig Kieswetter (3) and Jonathan Trott (2)  cheaply with just 30 runs on the board. Kevin Pietersen helped  Cook to dig in by making 41 before he top-edged a sweep to be  caught in the deep.
Cook and Ian Bell (30) added 72 and Tim Bresnan chipped in  with 26 but England could only post a target that had always  looked easy to reach.
"I think we were about 30 or 40 (runs) light," Cook told Sky  Sports. "It's been a tough day and we have to bounce back. "We just kept losing wickets at the wrong time. We didn't  get going at the top."
Around the Web