Alonzo Greaves out sprinted his opponents to win yesterday's 8th Annual Caricom Day Wheat Up Cycle Road Race sponsored by National Milling Company (NAMILCO) held  on the East Bank of Demerara.
The race started at NAMILCO head office at Agricola and proceeded to Long Creek on the Linden Soesdyke Highway before returning to end in front of Two Brothers Gas Station at Eccles.
Greaves broke away from the pack at the Eccles Housing Scheme function and sprinted to the finishing line edging out Robin Persaud who secured the second position.
Differently abled rider Walter Grant-Stuart led the five-man pack on the homestretch but Greaves powered forward in a late burst to the line. Eric Sankar secured the third position with Grant-Stuart securing fourth, Berbician junior cyclist Neil Reece fifth and Sean Alves sixth. Mark Lewis won four of the 10 Prime prizes up for grabs with one each going to Albert Philander, Warren "Forty" McKay, Paul De Nobrega, Junior Niles, Grant-Stuart and  last year's winner Ian Jackson.
Hazina Barnett of Linden continued her dominance of the women's event in claiming victory in the female category staged from Agricola to the Linden Soesdyke junction and back to Eccles.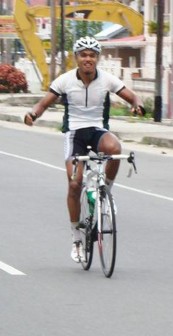 In second position was Marica Dick while Naomi Singh placed third.
Jude Bentley was the winner of the upright category beating Richard Chanes into second position with Kester Croal third.
Talim Shaw won the Veterans category from Shameer Baksh and Andrew Phang. The Race was organized by Roraima Bikers Club whose President Brian Allen thanked NAMILCO for their continued support to the annual Caricom Day race.
Allen said the race might have a new format next year to attract more spectator participation. Assistant Managing Director of NAMILCO Auto Lakeram said that his company was pleased to sponsor the race once again- now in its eighth year.
Lakeram paid lauded patron of Roraima Bikers Club George Humphrey of Humphrey's Bakery who was instrumental in securing the sponsorship for the race.
Director of Sport Neil Kumar who also spoke at the presentation ceremony said that NAMILCO has contributed significantly towards the development of sport t and he thanked Managing Director Bert Sukhai for his personal input.
The respective winners received the winner's Wheat up jersey, a trophy plus cash incentives while the other leading performers received cash incentives.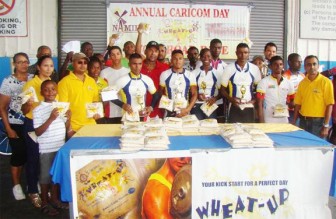 Around the Web