Robin Persaud powered to the Caricom Day 50-mile Cycle road race which was staged from Bushy Park on the East Bank of Essequibo to the Demerara Harbour Bridge where it concluded, on Sunday.
The event, which was organized by National Cycling Coach Hassan Mohammed (MS) and sponsored by Dr. Chase Jorgens, Seven Seas and Nature Valley Products, saw Persaud topping the senior category in an overall time of 1:45:43s.
Andrew Reece was second, Linden's Raymond Newton – third, Enzo Matthew – fourth, Albert Philander – fifth and the final top spot went to Alonzo Greaves.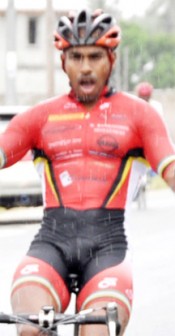 The three top Veteran riders were Shameer Baksh, Kennard Lovell and Bochel Samaroo while the three top junior riders were Paul DeNobrega, Raynos Jeffery and Cort LaRose who finished first, second and third respectively.
In the Upright cycling category, Jude Bentley finished first ahead of Richard Charles and Kester Croal who were second and third respectively while Naomi Singh was the first female rider and Walter Isaacs,  the top Over-60 contender.
Around the Web