The Guyana Amateur Swimming Association (GASA) will be staging its Goodwill Games time trials from July 15-17 at Castellani Swimming Pool, Homestretch Avenue.
All swimmers will be given the opportunity to participate in order to have a chance at gaining qualifying times to attend the regional Goodwill Games which will be held in Trinidad and Tobago from August 19-21.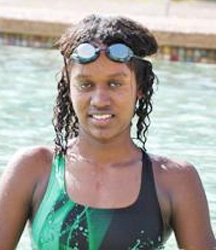 Fourteen swimmers have already gained qualifying times, including Trinidad-based swimmers Noelle Smith and Jessica Stephenson. Leading local junior swimmer Britany van Lange leads the qualifiers having already qualified for 10 events.
Van Lange, a multiple Goodwill Games gold medalist, attained Goodwill "A" qualifying times in the 100m freestyle, 200m freestyle, 100m backstroke, 100m butterfly, and the 200m IM. The girls 13 – 14 age category swimmer also has Goodwill "B" qualifying times in the  50m butterfly, 50m freestyle, 50m backstroke, 50m breaststroke, 100 backstroke.
Stephenson has qualifying "A" times in her favoured 50m and 100m breaststroke as well as the 200m freestyle, and a qualifying "B" time in the 50 freestyle, while Smith has qualified for the 50m and 100m butterfly, the 50m and 100m freestyle, the 50m breaststroke and the 200 IM in the 15-17 age category.
Also in the girls 13-14 category Soroya Simmons qualified for the 50m and 100m backstroke and 50m butterfly.
Athena Gaskin, who swims in the girls 15-17 category, has qualifying times in six events – namely the 50m, 100m and 200m freestyle, the 50m and 100m breaststroke, and the 200m IM. Girls 11-12 swimmer Onika George has qualifying "B" times in the 50m freestyle and 50m backstroke events.
Other swimmers, who have qualified so far for one event, include  girls 11-12 swimmer Accalia Khan, who has a qualifying "B" time for her 50m freestyle, Mark Jardim has qualified for the 50m freestyle in the boys 15-17 category, along with Sheik Amir and Gabriel Gunby. Joseph Seguina and Travis Henry, who swim respectively in the boys 15-17 and boys 13-14 categories, have qualified for the 50m backstroke. World Short Course Championships participant Ronaldo Rodrigues has a qualifying "A" time for the boys 15-17 100m breaststroke, and Serrano Gonsalves has qualified to participate in the 50m backstroke. The number of swimmers this year who have qualifying timings is a vast improvement compared with last year when only nine of the 21 participants who represented Guyana entered events with qualifying timings.
At the event last year, when it was held in Suriname, the Guyanese team ended fourth, while among the swimmers there were 12 medals.
The Goodwill Games is an annual event where four countries participate in swimming events – Guyana, Suriname, Trinidad and Tobago and Barbados.
The games feature five categories for swimmers 17 years and under, beginning with the eight-and-under category.
Around the Web