Champtress of the Simple Royal stable on the Corentyne Coast captured the feature C class race when the Port Mourant Turf Club in collaboration with the People's Progressive Party/Civic held a pre-CARICOM Day horse race meet at the turf club last Sunday.
The horse won the Banks DIH-sponsored race $600,000 first prize and the Hugh President Cup that were up for the taking.  It was the first win for the USA-bred animal that was ridden by Yap Drepaul in the 1500m race.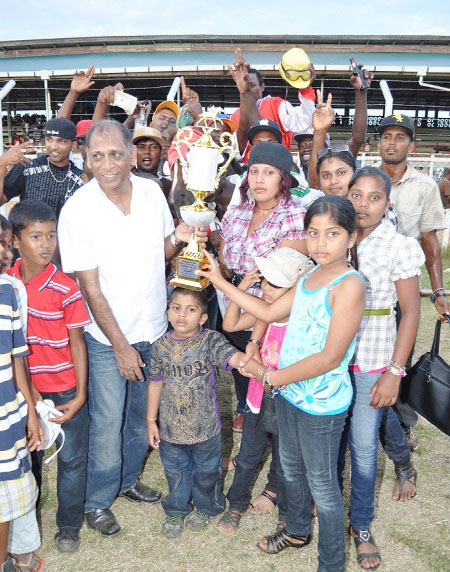 According to a release from the organizers, Champtress took the lead from Marathon Man early in the race and proved unstoppable.  Zelik came in second while Marathon Man settled for third while  the winner's stable mate, Wad A Luck, ran in fourth.
Jagdeo Stable's Better than Gold easily won the Three-year-old Open 1500m race for horses bred in Guyana and the West Indies. Jockey Rupert Ramnauth guided the horse to the Donald Ramotar trophy, the PPP/C's presidential candidate at the country's upcoming general elections, and the $400,000 first prize over Irish Girl, Face the Fire and Work Force.
Jagdeo Stable also got another winner when Gullium took the D class 1000m sprint event. Ridden by jockey Ramnauth Gullium, the horse beat Appealing Harvest, Wad A Luck and Home Bush Baby into second, third and fourth respectively for the $400,000 top prize and the Finance Minister Ashni Singh trophy.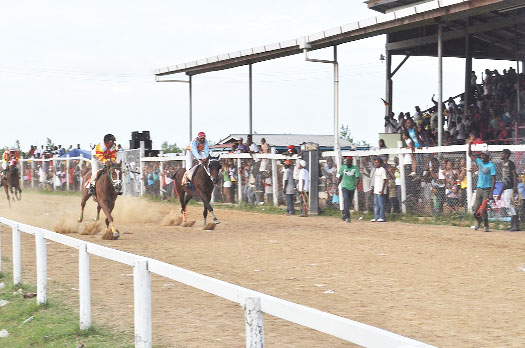 Times Have Changed gave the Asraf Ali Stable its first in the Two-year-old 1000m race. Mounted by Jamaican Andron Findley, the animal easily took $400,000 and the Lewis trophy ahead of Serenity. Times Have Changed stable mate Come Dance With Me came in third ahead of Speed Girl.  Jumbo Jet's Got to Go won the F and Lower 1500m event to take $300,000 and the GPC trophy from King Maker, Top of The Line and Sir Balajie while Bob's Fortune ran away with the G class event and the $240,000 winner's money and trophy, compliments of Kris Jagdeo Construction. Stormy Deal, Momzele and Stormy Lass finished in descending order.
Prince Renukha of Arjune Stable and ridden by Yap Drepaul won $160,000 and the Dr. Leslie Ramsammy trophy in the H class 1500m event. Extra Heat ridden by Dave Richmond was too hot for his opponents in the I-2 1000m race.
There were two races for I-3 horses with Cash Connection winning Group A while The Lion won Group B, copping $120,000 each and the Regional Chairman and Norman Singh Memorial Turf Club trophies respectively.
Meanwhile, the champion jockey was Rupert Ramnauth, the Jagdeo Stable with Tribuwan 'Turbo' Jagdeo were adjudged the champion stable and trainer. The top performers were presented with the replicas from the organisers and Trophy Stall, Bourda Market.
Around the Web