Guyana's Dawn Barker ensured that her name is indelibly etched in powerlifting records when she captured a gold medal yesterday at the North American Regional Powerlifting Championships in Miami.
In the process she also erased the existing record of 235kgs to set a  new mark of 237.5kgs in the women's 84kg and over weight division.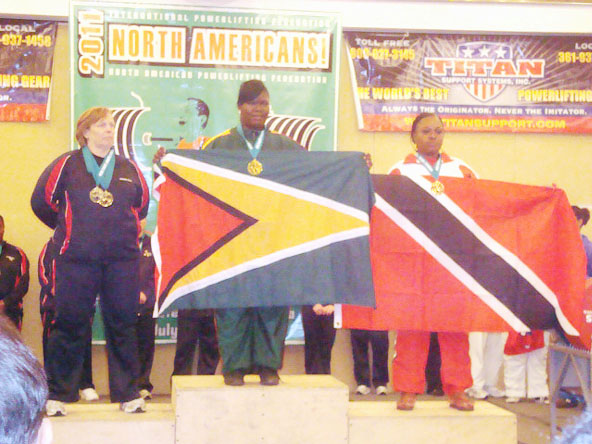 The accomplished powerlifter from Linden also bettered her Caribbean and Commonwealth record of  227.5kg. She is also the only Guyanese woman to squat 400lbs back in 2006 when she first entered the sport.
Barker, 30, beat USA  champion Malinda Baum into second place while Trinidadian Cheryl Abraham was third. In the bench press Barker pushed up 110kg while she deadlifted 192.5kg to record a total of 540kgs, a giant leap from her previous best of 517.5kg.
Baum had a total of 465kg, squatting 172.5kg, bench pressing 117kg and deadlifting 175kg, while Abraham squatted 147.5kg, benched 67.5kg and deadlifted 165kg to register 380kg.
When Stabroek Sport spoke with Barker yesterday via telephone she said that she was "elated, speechless, excited and the list goes on."
Her emotions were overflowing as she disclosed that she had many "trials" before going to Miami, the biggest one being sponsorship.
The wife and mother of one said that she had to buy her own ticket to get to the championships and there were also problems getting a release from her employers, the Ministry of Education.
However, she admitted that she was not quite knowledgeable about the procedures for obtaining a release from duty. However, she said she got through with the prayers of her family and this was also her motivating factor throughout the competition.
Commenting on the competition in Miami she said it was "very stiff" despite the wide margin of victory. She said that her father Benjamin Mc Cammon is in Miami sharing in the excitement and rooting for team Guyana.
Proud
President of the Guyana Amateur Powerlifting Federation (GAPF) Peter Green said that he is proud of Barker, who is a nursery school teacher at Watooka, and he is positive that her hometown of Linden and all of Guyana are proud. He noted that she easily dispatched the US champion.
Guyana's other participant goes into action tomorrow.
When Stabroek Sport spoke with Barker's husband yesterday he said that he was very excited about his wife's achievement, especially since he knows that she had worked extremely hard.
He said he was even more proud because she had to make many sacrifices, balancing studies at the University of Guyana where she finished her degree in Nursery Education and managing her responsibilities to her family while coping with the rigours of training. He called them the big three.
When this publication caught up with Barker's sister Delinda she said that she was very overjoyed and proud and her mother Shirley Ann Brusche was even more elated. She said that the family was praying fervently for Dawn's success.
Around the Web