The track and field fraternity will have to wait a  while longer for their anticipated and overdue synthetic track to be constructed at Leonora on the West Bank of Demerara.
According to the Ministry of Culture, Youth and Sport (MCYS) at a media briefing  earlier in the year, the project will go through three stages, each lasting six months.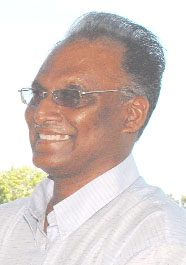 At that  media briefing the MCYS also concluded that while the adverse weather prevailing at the time had caused the project to slow down,  the phase one stage which started in September last year under the management of Courtney Benn Construction Ltd was still on schedule.
However, speaking with Director of Sport Neil Kumar yesterday via telephone, Stabroek Sport learnt that the project is still stuck in its phase one stage which is the establishment of the facility's foundation due to the current rainy weather.
"The synthetic track is still in its first phase, we had a meeting with the contractor last week and once the weather holds up, hopefully we will get to start phase two which is the laying of the track itself," Kumar stated.
When asked by Stabroek Sport if a time frame will be crafted for the much needed facility, Kumar stated, "We want to take our time and do this just like we took time with the Olympic Pool, so I won't be able to give a specific time," he commented.
Around the Web