Berbice High School (BHS) won the inaugural Shurland Hetmyer and Shaun Nurse Inter Secondary School Independence Anniversary Football tournament for schools in the New Amsterdam area that was played on Friday at the All Saints Scot Church ground.
They won 3-1 on sudden death penalty after the two teams had played to 0-0 stalemate after full and extra time. In the third place play off Vryman's Erven Secondary School (VESS) beat New Amsterdam Multilateral (NAMS) 4-2.
Delroy Bullen led the way for VESS with two goals. while there were one each for Lloyd Freso and Steffon Boucher. Shamen Richards and Akeem Bollers scored for NAMS.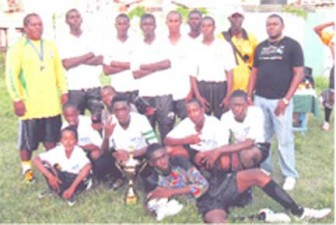 In earlier matches played in the preliminary stages VESS got the better of All Saints Scot 1-0, while BHS and NAMS played to a 1-1 draw. Day three action saw All Saints drubbing School of the Nations 6-0, while NAMS got the better of Berbice Educational Institute 2-0.
In the semi final matches BHS defeated VESS 2-0 while in the other semi final All Saints beat NAMS 3-2 on penalty kicks after their encounter ended 1-1 after full and extra time.  At the presentation ceremony, BHS, All Saints, VESS and fourth finisher NAMS all received trophies. Outstanding individual players also received accolades. The Most Valuable Player was Mitchroy Thom of BHS who received a pair of football boots.
Best Goal Keeper Joshua Drakes also of BHS collected a pair of goalkeeping gloves, while Delroy Bullen of VESS got a pair of football boots for being the top goal scorer. Two young players were identified for their promise in the game: Stafford Edwards of BEI and Dennis Robertson who received a football kit.
Twenty-one goals were scored in the tournament, which was organized by the Hearts of Oaks Masters Football organisation. Neil "Grizzly" Humphrey and Nigel "Busit" Felix were the coordinators.
Around the Web