ROSEAU, Dominica, CMC – Kirk Edwards joined an elite band of batsmen to score a century on Test debut but West Indies let their advantage and slip late on the penultimate day of the third and final Test against India yesterday.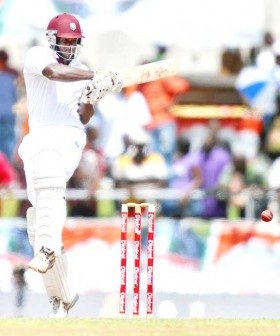 The 26-year-old stroked a defiant 110 to help haul West Indies out of trouble and propel them to a solid 201 for three late in the evening at Windsor Park.
But his dismissal triggered a slide and the Windies lost three wickets for 22 runs to end the day on 224 for six, a lead of only 81 runs with one day remaining in the contest.
It was a stark contrast to how the hosts started the day as pace bowler Fidel Edwards' 10th five-wicket haul in Tests helped limit India to 347 all out after they resumed the day on 308 for six.
Captain and medium pacer Darren Sammy (2-51) and leg-spinner Devendra Bishoo (2-125) finished with two wickets apiece.
Trailing by 143 runs, West Indies lost openers Kieran Powell (4) and Adrian Barath (6) cheaply and when Darren Bravo holed out to deep mid-off for 14 at 40 for three just after lunch, a rout appeared on the cards.
But the right-handed Kirk Edwards emerged from a scratchy start to carve out an innings of the highest quality, frustrating the varied Indian bowling attack to become the 13th West Indian to hit a century on debut.
He counted nine fours and one six in facing 195 balls, and shared a crucial 161-run, fourth wicket stand with veteran left-hander Shiv Chanderpaul who was unbeaten on 73 at the close.
Favouring the pull that caused his first innings demise, Edwards steadily grew in confidence to play shots to all parts of the ground, also making its debut as a Test venue.
He needed 33 balls to get his first boundary – a top-edged pull off seamer Munaf Patel – and his second four was hardly convincing as he edged the same bowler past the slips.
Showing great character and determination, however, Edwards fought it out and his third boundary – a pull off Munaf – signalled he had found his stride.
With Chanderpaul as his guide, he continued to back himself and collected another pulled four off Munaf before repeating the same shot to perfection off seamer Ishant Sharma to bring up his half-century.
Unbeaten on 62 at tea, he continued to play positively in the final session, lofting off-spinner Harbhajan Singh (3-61) for four and driving Sharma straight for another boundary in what was perhaps the stroke of the day.
Edwards moved into the 90s with a pulled six off part-time bowler Abinhav Mukund before reaching his milestone in dramatic fashion when he pushed to mid-off and set off for an impossible single only to be sent back by Chanderpaul.
He was struggling to make his ground but the throw was off target and he stole the overthrow to complete three figures.
His innings ended when he edged Harbhajan behind and Marlon Samuels survived three tortuous deliveries before falling lbw to the last ball of the same over without scoring at 201 for five.
Carlton Baugh looked to be guiding the Windies towards the safety of the close before he drove the third ball of the day's final over from seamer Praveen Kumar (2-29) to cover.
Chanderpaul, in his record-breaking 133rd Test, has so far struck five fours off 201 balls.
Earlier, Fidel Edwards picked up three of the four wickets to fall to finish with five for 103 as India added a mere 39 runs in a morning session that was interrupted by rain.
India skipper MS Dhoni added nine to his overnight 65 while Kumar stroked a breezy 23 from 27 balls, in a stand of 31 from 47 balls for the eighth wicket.
Once they were parted, however, the innings ended swiftly with the last three wickets falling for eight runs in the space of 13 balls.
Scoreboard
West Indies 1st Innings 204
India 1st innings
(overnight 308 for six)
A Mukund c Barath b Bishoo          62
M Vijay c wkp Baugh b F Edwards            5
R Dravid b Sammy                5
VVS Laxman st Baugh b Chanderpaul      56
V Kohli c wkp Baugh b Sammy         30
SK Raina lbw b F Edwards              50
*+MS Dhoni c Bishoo b F Edwards          74
Harbhajan Singh c wkp Baugh b F Edwards      12
P Kumar c Samuels b Bishoo          23
I Sharma c Barath b F Edwards           2
M Patel not out                   4
Extras (b8, lb3, w3, nb10)             24
TOTAL (all out, 108.2 overs)         347
Fall of wickets: 1-13 (Vijay), 2-18 (Dravid), 3-116 (Mukund), 4-168 (Kohli), 5-172 (Laxman), 6-275 (Raina), 7-308 (Harbhajan Singh), 8-339 (Dhoni), 9-343 (Kumar), 10-347 (Sharma).
Bowling: F Edwards 28.2-3-103-5, Sammy 28-7-51-2, Bishoo 38-2-125-2, K Edwards 4-0-19-0, Chanderpaul 10-0-38-1.
West Indies 2nd Innings
A Barath c Kohli b Kumar               6
K Powell c Raina b Sharma           4
K Edwards c wkp Dhoni b Harbhajan Singh   110
D Bravo c Kumar b Harbhajan Singh     14
S Chanderpaul not out             73
M Samuels lbw b Harbhajan Singh          0
+C Baugh c Mukund b Kumar                  10
*D Sammy not out               1
Extras (b5, nb1)                   6
TOTAL (6 wkts, 83 overs)                      224
To bat: R Rampaul, F Edwards, D Bishoo.
Fall of wickets: 1-8 (Powell), 2-10 (Barath), 3-40 (Bravo), 4-201 (KA Edwards), 5-201 (Samuels), 6-223 (Baugh)
Bowling: Kumar 15-5-29-2, Sharma 16-4-38-1 Munaf Patel 17-3-58-0, Harbhajan Singh 25-6-61-3, Raina 8-1-19-0, Mukund 2-0-14-0.
Position: West Indies lead by 81 runs.
Toss: India.
Umpires: Asad Rauf, R Kettleborough; TV – J Wilson.
Around the Web