The Youth Basketball Guyana's (YBG) Elite Team crushed the National Schools Basketball Festival's (NSBF) First Team when the all-star game concluded at the Cliff Anderson Sports Hall on Friday. The event which is organized by the YBG and the National Sports Commission (NSC) saw the players from last year's Inter-Guiana Games national team making up the YBG Elite Team to take on a mixture of the best students from various schools making up the NSBF First team.
However, the YBG Elite proved to be too much for the NSBF First Team as the game ended 94-37 in a show of total dominance by the Elites.
The Elites simply outclassed the First Team in every facet of the game as they were unable to stop the Elites from scoring and were also unable to score against the 1-2-2 zone defence of the Elites. While the First Team lost miserably, there were some bright moments. Parrish Codogan showed off his dribbling skills to cheers of the crowd when he used his head fake to get Yonnick Douglas of the Elites off balance, before following up with a series of crossovers that left the Elite player in a bewildered state. He then finished the sequence off by putting the ball through Douglas's legs and collecting it back which almost threw him off his feet.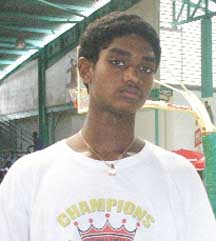 Nikkoloi Smith and Akeem 'The Dream' Kanhai came up big for the Elites as they scored 20 and 17 points respectively.
Marlon Pollydore was the hot hand for the First Team as he connected on 4 of his 7 three-point attempts ending with 20 points while Dominic Douglas managed 10 points in the blowout loss.
Meanwhile, the result was different for the NSBF Second Team as they held of a surging Berbice All-Star Team in the final minutes of the game to win 63-53 at the final buzzer.
This time around, the best players from schools around Berbice matched up against players from different schools around the nation for the high-profile encounter.
With the lead extending to 15 points in the second half by the NSBF Second Team, the Berbicians made one final push for a win but it was a little too late as they were unable to put enough defensive pressure on their opponents to stop them from scoring.
Tequan Vieira led the Second Team with 12 points while Sheldon Noel contributed 10 points to the double digit victory.
Antonio Aslam dropped a game high 14 points, while Leron Jackman scored 8 and collected 12 rebounds in the loss.
In the girls All-Star matchup, Girls 'Red' defeated Girls 'Gold' 23-20. The teams comprised senior players along with the players from the various schools.
Ginelle Ifill scored 9 points and grabbed 5 rebounds for the Red team, while Timike Joseph contributed 8 points for the Gold team.
Around the Web