The Georgetown Technical Institute (GTI) claimed a convincing 2-0 victory over Charlestown Secondary in the Region 4 finals of the inaugural Digicel's Schools Football Championship, at Carifesta Sports Complex yesterday.
Goals from Darren Fraser in the 13th minute and an unfortunate own goal off Dennis Fung in the 39th minute, gave the GTI victory in a extremely end-to-end encounter. GTI, which boasted a few players from Fruta Conquerors club, truly dominated in both halves of the 70-minute clash.
But it was not all doom and gloom initially for the Charlestown side, as they made all the attacking plays of the game. They had at least 4 attempts on the GTI goal in the first 10 minutes, until a wonder through-ball bounced onto the legs of Fung, who gleefully buried his chance.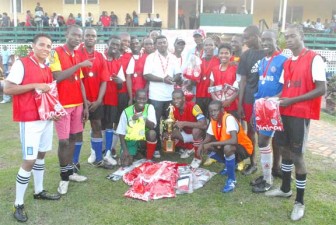 That seemingly knocked the stuffing and co-ordination out of the Charlestown side. As GTI regularly ran their midfield with aggressive counter-attacking wing-play and were unlucky not to score more goals. Meanwhile today Orealla Secondary Depart-ment will clash with New Amsterdam Technical Institute (NATI) in the final of the Region Six leg of the competition.
Orealla Secondary edged Berbice Educational Institute 2-1 on Friday at the Scottsburg Community Centre ground with the prolific Norland Peneaux slotting home a double. Peneaux was also in menacing form in the quarter-final against Skeldon Annex at the Scottsburg Community Centre ground.
Orealla had emerged with a 7-0 win against Skeldon Annex in that game with Peneaux scoring five goals and Nolan Paton and Andre Henry scoring the other two.
Assistant Manager of Orealla Secondary and Head Teacher of the school, Carl Peneaux praised Digicel for staging what he termed "a real good programme." He stated that his school had an inter-house competition from which the final 18 players were selected to represent the institution.
"The exposure will be good for them and I would be happy if we could win the Region Six tournament," Peneaux stated.
Around the Web