Guyana came from behind to down Bermuda in the males team competition of the Digicel Caribbean Junior Squash Championships yesterday at the National Racket Centre on Woolford and Camp streets while the local girls had an easier time.
Prior to the matches, the official opening ceremony of the tournament was held with Permanent Secretary of the Ministry of Culture, Youth and Sport, Alfred King along with President of the Guyana Squash Association, Andrew Arjoon welcoming the overseas players and wishing them well.
However, the Guyanese boys went two down to their Bermudian counterparts as Deje Dias and Jean-Claude Jeffrey lost to Micah Franklin and Noah Browne 3-0 respectively.
Nyron Joseph then sparked the Guyanese comeback with a 3-0 win over Kion Knights, defeating the Bermudian 12-10, 11-6 and 11-4 in the under-19 category.
Jason-Ray Khalil had some tense moments with D'vario Thompson but prevailed over the Bermudian 3-2 at 16-18, 11-6, 5-11, 11-9 and 11-5 to cap an under-17 win and tie the team score at 2-2.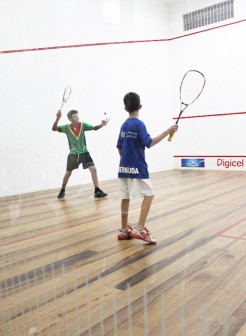 Benjamin Mekdeci then finished off the team effort for Guyana with a 3-0 win over Dylan Pratt at 11-7, 11-2 and 11-5 in the under-13 category.
Meanwhile on the distaff side, the girls proved to be Guyana's strong point in the competition as they overpowered the Bermudians 4-1 to pick up the team win.
Ashley Khalil finished off her Bermudian counterpart easily as the match ended 3-0 at 11-2, 11-0 and 11-2 in the under-19 category while Mary Fung-A-Fat picked up a walkover in the same category.
Victoria Arjoon then blew the gap open and sealed the team victory by defeating Alex Marshall 3-0 at 11-7, 11-5 and 11-5. Larissa Wiltshire continued her good form when she downed Susanna Armand 3-0 to make it 4-0 for Guyana at 11-4, 11-3 and 11-1.
Meanwhile Madeleine Rose picked up a consolation win for Bermuda as she defeated Lydia Alphonso 3-0 at 5-11, 3-11 and 7-11.
Around the Web