(Trinidad Guardian) West Indies captain Darren Sammy on Sunday, paid tribute to his teammates describing the draw in the final Test against India as testament to their fighting spirit and says he will continue to lead them once he is asked to do so. "As you saw, the crowd, who are very understanding, treated the drawn result as a win for us because we got out there and fought," Sammy said. Following the match, the West Indies players walked around Windsor Park, with the crowds cheering them on wildly. Sammy's tenure ended with this series and the board will decide whether to continue with him or not.
Asked whether he would like to remain captain Sammy said: "West Indies cricket is not about Darren Sammy. There are people to appoint captains. If they give me a job, I will go out there and give it my all. I have something to offer to this team as captain.
The guys are relaxed in the dressing-room and when we are out there as a bowling unit, I think the guys are really responding to me. And if the people in charge want me to continue, I will do it."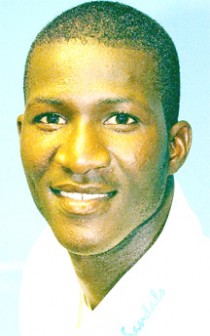 West Indies were a bowler short in the first innings after Ravi Rampaul took ill with a stomach ailment. But the rest of their attack, led by Fidel Edwards fought on impressively and their batsmen, led by Shivnarine Chanderpaul's 23rd Test century and debutant Kirk Edwards' first century,  gave a stirring performance, to defy the Indians. "That's exactly what the coach and the public have been asking for," Sammy said. "Even if we are not winning, as long as we go and show the fight that we showed in this Test … the batsmen saw how hard the bowlers worked to get the wickets, so that was motivation enough for them to go out and give them some rest and more time in the dressing room.
The way we batted in the second innings: Shiv, Kirk and even Fidel [who] faced more than a 100 balls. It was really pleasing to see the fight shown." Sammy said he was happy with the result, though he was surprised that the Indians shut shop early. "With 15 overs to go and 86 runs required, and considering the calibre of players they have like Dhoni and guys who can hit the ball, I thought they would it give it a go, being one-up. But I guess my ploy to have Devendra Bishoo bowl in the rough, they didn't fancy their chances of going after him. I am quite happy with the result."
Apart from the bowlers, Sammy said the spirit the team showed was a big positive. "We've got some really young players in there. If we had bowled better after we had India 80-something for six [in the first Test in Jamaica] or if we had scored more runs in Jamaica or Barbados, it could have been a different result. But you can't fault the bowling effort or the way we batted here." Sammy was a bit disappointed with some of the younger players, particularly the openers. "I would have loved to have seen the young guys like [Lendl] Simmons, [Adrian] Barath, [Kieran] Powell do well.
They have shown signs they are capable of scoring runs, like Barath playing well in his comeback innings in the first Test. But it's about being consistent. They are still young: Powell has made his debut, Barath and Simmons have played around eight Test matches. So there's a little bit of inexperience. They will have to back their talent and continue to work hard."
Questions have been raised over Sammy's spot in the Test team and he said he expected it when he took up the job. "My back is broad. I will still come out smiling. You can't please everyone. The best man who walked the face of the earth never did anything wrong, but he was still crucified. And I am nowhere close to that. So I think I am in line for a lot of criticism.
It comes with the job. What the public wants is performance. If you judge me on what I do on the field of play, I go about doing my job—the field placements and bowling changes. I think I have done okay. I can't captain when there are two people out there batting. It's for them to put on a partnership." Sammy said he was working hard on his batting: "I have got a few options.
There's Desmond, the Sagicor Performance Centre, and I have a coach at home. Dessie has suggested a few things that I can improve and I am working on them: my back-lift and playing across the ball. I can go back home, look at ODIs and Tests where I have done well, and take the positives from them."
Around the Web