RALEIGH, North Carolina, (Reuters) – Olympic double  bronze medallist Walter Dix does not buy the talk that America,  without Tyson Gay, will have no answer for Jamaica's Usain Bolt  and Asafa Powell at next month's world championships.
U.S. championship victories at 100 and 200 metres have  convinced the Floridian he can be a shock factor in the short  race and medal in the longer run as well at the Aug. 27-Sept. 4  world championships in South Korea.
"I love to prove people wrong," Dix, who will compete in  Canada's National Track League meeting in Toronto on Wednesday,  told Reuters via telephone.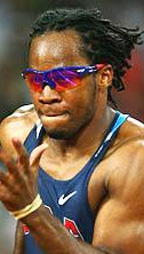 World record holder Bolt recently said he believed without  world silver medallist Gay, who underwent hip surgery last  week, his biggest challengers in South Korea would be his  Jamaican team mates and fellow Caribbean sprinters.
"I have always had the confidence I can beat those guys,"  said Dix, who won the U.S. championships in respectable but not  Bolt-like times. "I just haven't been able to stay healthy  since 2007. This is the first year I am doing that." The improved health and good results so far have sparked  thoughts that Bolt could be beaten in Daegu, which is one  reason Dix is competing in Toronto and ran on Sunday in  Halifax, Nova Scotia.
The American needs to fine-tune his start and the early  portions of his 100 metres if he is to have a chance against  Bolt in the world championships.
"If I can just come out of the blocks next to him, if I can  be with him or a step ahead at 40 metres, I think it is a  wrap," Dix said of his plan to dethrone Bolt.
"I don't see myself losing to him. I ran down Asafa a  couple of times (in races) and I think Bolt and I have about  the same top-end speed … I don't think he is going to pull  away from me too much."
The ever-hopeful Dix may need a refresher course in events  of the 2008 Olympics, where the lanky Bolt was untouchable in  Beijing once he unfurled his long stride pattern, romping to  world records in both the 100 and 200.

EXTREMELY PROUD
Dix claimed bronze in the 100 and was elevated to bronze in  the 200 after two athletes who finished ahead of him were  disqualified.
Bolt dropped his world records to 9.58 seconds in the 100  and 19.19 seconds in the 200 at the 2009 world championships.  Dix has bests of 9.88 (in 2010) and 19.69 (in 2007).
Yet, Dix insisted he could run with Bolt and Powell.
"When I saw 9.5. and 9.6 (for Bolt), I believed I could  run 9.7 or 9.6," he said, "and I always thought I was going to  run 19.3 (in the 200)."  An extremely proud individual who dominated U.S.  collegiate sprinting in the mid 2000s, Dix missed the 2009  world championships with a pulled hamstring.
"That injury really set me back," the 25-year-old said. "It  took me out of the picture."
Getting back in has proved difficult even with his U.S.  sprint double.
"They (the media) are still saying Usain this and Asafa  that," Dix said. "It's everybody under the sun (but me) … But  I appreciate that. It just makes me want to work harder."
Around the Web