CARMAUX, France, (Reuters) – German Andre Greipel  put one over bitter rival and former team mate Mark Cavendish by  securing a maiden Tour de France stage win yesterday.
Greipel, riding his first Tour, snatched victory ahead of  Cavendish on the 10th stage, a 158-km trek from Aurillac, giving  the Rostock-born sprinter plenty of satisfaction after the  pair's sour relationship led to the German departing the HTC  Highroad team after four seasons for Belgian outfit Omega Pharma  Lotto last summer.
Cavendish, the winner of stages in Cap Frehel and  Chateauroux, where Greipel finished third, charged for the line  on the last curve but Greipel stuck to his wheel and overtook  him on the line.
Spain's Jose Joaquin Rojas grabbed another podium place in  third spot while France's Thomas Voeckler retained his Tour  leader's yellow jersey. Three-times champion Alberto Contador  finished in the pack.
"I was dreaming of winning a stage on the Tour and if it  meant beating him, so be it," Greipel told reporters.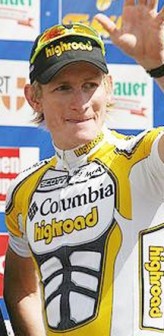 "I have a lot of respect for him, he is the best sprinter in  the history of the Tour with 17 wins and I had the chance to  beat him. Of course he was not always friendly with his comments  to me.
"I just try to show on the bike what I'm able to do,"  Greipel added diplomatically.
There were no sour grapes from Cavendish after being denied  an 18th Tour stage win.
"I went early but it was not too early on this type of  finish. I didn't have enough kick I kind of rolled around and  Greipel just came faster and beat me," he said.
"I'm happy for him, he came to the Tour and won a stage."
HAILSTORM
Greipel's first Tour had begun in less than ideal fashion —  the 28-year-old falling on the road leading to the start of the  first stage.
His Omega Pharma Lotto team suffered a blow with leader  Jurgen Van den Broeck forced out of the race after breaking his  shoulder blade in a massive pile-up in the ninth stage.
But the Belgian outfit, with only six men out of nine left  in the Tour, have also had their share of success thanks to  world number one Philippe Gilbert, who won the first stage and  is now the most serious contender for the points classification  green jersey.
Gilbert was instrumental in his team mate's triumph as he  broke away seven kilometres from the line, forcing Cavendish's  HTC team-mates to chase and spend energy before the final  stretch.
The Belgian champion leads the points classification on 226  points, 17 more than Rojas and 26 more than Cavendish.
A violent hailstorm at the start in Aurillac warned riders  that another tricky day lay ahead and there were more crashes,  although not as serious as in previous stages.
A pile-up after 11 kms again involved several big names,  including Dutchman Robert Gesink, American Levi Leipheimer,  Swiss time trial Olympic and world champion Fabian Cancellara.
Spain's Juan Antonio Flecha and Dutchman Johnny Hoogerland,  who started in spite of the injuries they sustained two days  earlier when they were hit by an overtaking car, were warmly  cheered by the crowds.
"I'm still in pain and I was a little bit afraid at the  start but I received a lot of support on and off the road. Some  guys even pushed me in the climbs. I was glad to be in the  peloton today," said Hoogerland, who suffered deep cuts in his  legs after being sent flying into a barbed-wire fence.
Yesterday's 167.5-km eleventh stage to Lavaur is almost  entirely flat and could see a repeat of the day's battle between  Cavendish and Greipel.
Around the Web