Kadecia Baird ran her fastest 200 metres this year but failed to make it into the finals at the World Youth Championships in Lille, France from July 6-10.
The sixteen-year-old  sprinter is an American-based Guyanese and attends  Medgar Evers College Prep High School in New York City (NYC) where she trains under the coaching expertise of Shaun Dietz.
Baird posted the fastest reaction time of 0.173s out of lane one to clock 25.01s to pick up the second position ahead of Argentina's Paula Marcarena Solis 25.61s but behind Bulgaria's Karin Okolie 24.74s.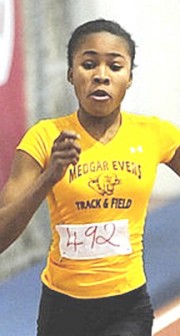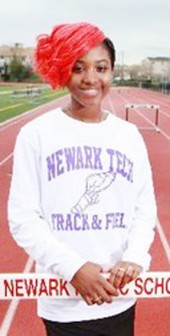 Running out of lane eight in the second semifinal, Baird registered a slightly faster reaction time of 0.161s to clock her season's best of 24.53s to place fifth in the semifinal heat.
"The competition there is not easy, it's very tough but I felt good, I just think I needed some more preparation," Baird told Stabroek Sport via telephone.
Baird competed under the Guyanese flag for the first time in her brief athletics career and while she is disappointed at the outcome of her race, she is looking forward to raising the level of her performance. "Things didn't go the way I planned but I felt good competing for my country and I know  that I will have to work harder to reach where I want to reach," Baird stated.
Meanwhile Iana Amsterdam who was identified by the Athletics Association of Guyana (AAG) to participate in the 100 metres along with the 100 metres hurdles at the championships was somehow absent from the prestigious event, according to the International Association of Athletics Federation's (IAAF) WYC website.
Speaking with president of the AAG, Colin Boyce about Amsterdam's absence from the games, he stated that, "we had already submitted Kadecia as our one choice that we had so anybody out of our allotted amount would have had to pay the full funding for the event for which Amsterdam's representatives had agreed to pay.
"However, until I get a full manager's report from the manager of the team I will be better advised to speak on the situation since I don't fully know the reason for her absence," Boyce commented.
Around the Web