LONDON, (Reuters) – There will be a huge depth of  golfing knowledge amid the galleries of Royal St George's this  week but even the keenest statistician might be hard pressed to  name the winners of the last 11 major championships.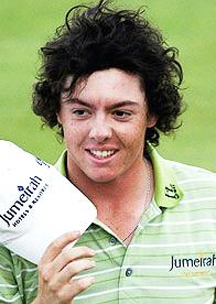 What makes it such a tricky challenge is that the 11  tournaments have been won by 11 different players in a stark  illustration of how dramatically different golf's landscape has  become since Tiger Woods slipped from his once-dominant perch.
Rory McIlroy, hot favourite to triumph at the British Open  this week, became the 11th when he won the U.S. Open last month.  Before him came Charl Schwartzel (Masters), Martin Kaymer (U.S.  PGA), Louis Oosthuizen (British Open), Graeme McDowell (U.S.  Open), Phil Mickelson (Masters), Yang Yong-eun (U.S. PGA),  Stewart Cink (British Open), Lucas Glover (U.S. Open), Angel  Cabrera (Masters) and Padraig Harrington (U.S. PGA).
Harrington also won the British Open in 2008, which coming  after Woods's U.S. Open triumph and Trevor Immelman's victory in  the Masters that year makes it 13 different winners of the last  14 majors.
"The game is in a transition and I would really say a  transition from Tiger," 18-times major champion Jack Nicklaus  said after McIlroy swept through the U.S. Open.
"Tiger's still going to be around and he's going to play a  lot more golf — and going to play well. But he's going to play  against a lot of kids that are 10, 15 years younger than he is  who are good."
Woods won the 2008 U.S. Open despite struggling with the  knee injury that eventually required surgery and kept him out of  the remaining majors of the year.
His subsequent domestic problems kept him off the course for  almost five months and on his return he struggled to rediscover  his best form.
More injury trouble kept him out of this year's U.S. and  British Opens and his rivals have wasted little time in rushing  to fill the vacuum caused by his decline.

DIFFERENT
NATIONALITIES

Those 11 winners include seven different nationalities;  eight of the last nine were winning their first major while the  four current major holders – McIlroy, Schwartzel, Kaymer and  Oosthuizen – are all in their twenties, the first time that has  happened.
"There are probably a number of reasons that you could argue  (for the variety of winners) but certainly the depth of talent  is the first and foremost," Mickelson said.
"The quality of play now that has come across the  international circuit is some of the best I've seen. I think the  overall level of play throughout the world internationally is  what has sparked that and I wouldn't be surprised to see a  first-time winner this week."
Around the Web