Manager/Trainer of Barbadian boxer Miguel 'Hands of Steel' Antoine, Sam Layne said yesterday that his fighter is like fine wine as he gets better with each fight and as his fight date with Guyanese Cassius Matthews nears patrons can expect an improved Antoine.
Layne yesterday said via telephone from Barbados that Antoine, who is the World Boxing Council (WBC) Caribbean Boxing Federation (CABOFE) light welterweight champion, has been working on improving his timing and fighting skills.
Layne said that Antoine, who is undefeated in 14 fights, is focussed at the moment and their concern at this time is getting everything right for July 29 at the Cliff Anderson Sports Hall.
Layne informed Stabroek Sport that his fighter is training five times a week and all aspects of his game will be on par for the crafty veteran, Matthews. Layne said that he is expecting a good challenge since he has been working on his fighter's offence and defence for the fast-paced four-round encounter.
Speaking about what Antoine, who is also the vacant Commonwealth Zonal light welterweight champion, knows about Matthews, Layne said that the Guyanese is a crafty, experienced boxer. However, the camp has plans to counteract Matthews' style of fighting.
Layne stayed away from making any predictions of a stoppage but stated instead that he will be observing his charge to see how he comes out victoriously on July 29.
Antoine's last four wins have come against Guyanese fighters.
Apart from that, Layne said that his camp is waiting for a copy of the contract so they can sign it.
Matthews had stated briefly on Monday that he will outclass Antoine, noting that he will not be easily hit.
Another Barbadian, Selwyn Lett, who will fight Orlon 'Pocket Rocket' Rogers in a four-round bantamweight contest, said that he is preparing thoroughly for his ring date. Lett  said that he does not know much about Rogers but shot back that his opponent can say the same thing about him.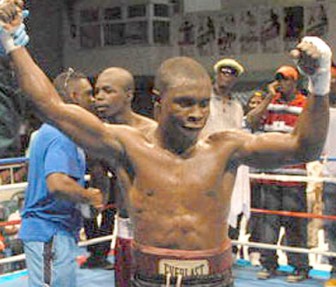 According to Lett he is not too concerned about Rogers, the local journeyman in the bantamweight division with three wins from 14 fights, since he is confident about the amount of work he has put in. When asked about his expectations for the fight, Lett said that he "will not be counting the eggs before the chickens are hatched."
Further, he pointed out that if there is no stoppage "there will definitely be a win for me."
Meanwhile, Rogers was adamant that no overseas boxer could come to Guyana and defeat him, especially since he has revamped his whole fighting style, promising that fight fans will be seeing a "sharper and more improved Rogers."
Calls to the other overseas-based fighter Joseph Christopher of St. Lucia were unsuccessful. The fighters will be arriving in Guyana on July 27.
To round out the professional card Joel 'Mr Majestic' Mc Rae will fight Edmond De Clou for the interim middleweight title of Guyana in a 10-round contest.
The winner of that matchup is expected to face middleweight champion of Guyana and former European champion Howard 'Battersea Bomber' Eastman while heavyweights Joseph Christopher and Anthony Augustin will trade punches.
Admission to the fight card is $1000 for ringside and $500 for the stands.
Around the Web