A Jermaine Junior double strike and a Tyson McNaugton hat-trick enabled Government Technical Institute (GTI) and Waramadong Secondary to win  their respective quarter-finals matches 4-2 and 5-1 respectively yesterday vs Bygeval Secondary and Charity Secondary in the inaugural 2011 Digicel Schools football championships.
These wins mean that both GTI and Waramadong will advance to the national semi-finals of the  competition scheduled to be played tomorrow at the Georgetown Cricket Club (GCC) Ground where their opponents will be New Amsterdam Technical Institute (NATI) and Wismar Christianburg Multilateral.
In the clash at the Carifesta Sports Ground between GTI and Bygeval Secondary, the GTI side twice had to dig deep to recover from deficits to win 4-2 in a game in which they generally dominated from the outset.
The GTI side played with a free-flowing 4-3-3 formation compared to Bygeval's more orthodox 4-4-2 formation. And from the inception GTI with  more bodies in the middle dominated possession, having won the key mid-field area battle of the pitch, which was marshalled by their skipper and national under 23 player Ian Allen.
That early dominance of possession was rewarded in the 23rd minute as striker Jermaine Junior received a well-weighted pass from the mid-field and he gleefully capitalized on his chance.
However Bygeval Secondary got a lifeline in the 35th minute. Totally against the run of  play, a regulation save from GTI goal keeper Nkosie Barker was ridiculously fumbled  as he gifted the opposition an own goal, thus lifting Bygeval's spirits.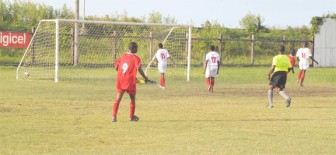 GTI struck back just before the half-time interval as another wonderful long-pass from mid-field to the right-wing where striker Jermaine Junior collected and drifted past the opposition left-back, to score with a thunderous strike from a tight angle in the 44th minute.
The second half began with Bygeval seemingly adapting tactics of absorbing and waiting for a chance to catch GTI on the counter-attack.
The GTI side fired many shots in the first 15 minutes of the second half and they were visibly getting frustrated.
But just like in the first half a poor defensive error from GTI in attempting to head away a cross from the right-wing,  headed straight into the path of Bygeval player Mark Collins who smashed home the equalizer in the 72nd to send his team into a frenzy.
Bygeval at this stage were beginning to show some  assertiveness  as they hit the post twice along with being denied by a string of brilliant saves from GTI keeper Nkosie Barker who was making up for his first half blunder. GTI however made Bygeval pay for not closing them off as a Keifer Adams goal in the 84th minute sealed the victory. Some in the crowd screamed at the referees as  it seemed off-side. Coach of the victorious GTI side Edward Cort although pleased to be in the semi-finals was quite frank in assessing his team's performance yesterday. "My team had a below par performance today, we got caught up in the trap of getting frustrated because the opposition was playing basically with a defensive formation for most of game and the boys got frustrated too quickly when they didn't score.  That goal-keeping error early in the 1st half also made the boys lose confidence and early momentum. But at the end of the day the boys showed great team spirit to come from behind twice and win the game."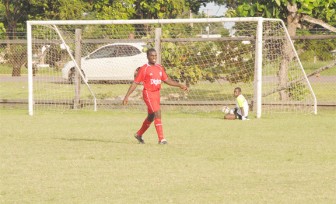 The other major semi-final of the day in Essequibo was between Region Seven  Champions Waramadong Secondary and Region Two  champions Charity Secondary. Waramadong continued their impressive journey in this competition as a Tyson McNaughton hat-trick secured them an impressive 5-1 victory over their hosts.
McNaughton, who also scored twice in Waramadong's victory on Monday over Ash Education Institute in Berbice continues to shine as his team's lead player. Goals from Reddick Williams and Ceivert Roland aided in securing a crushing victory, while Sevoron David claimed the lone brace from the defeated home side.
Waramadong now will come to town tomorrow to play Wismar Christianburg Multilateral who also won their low key quarter-final match-up 1-0 over Port Kaituma.
Around the Web