BRIDGETOWN, Barbados, CMC – West Indies captain Darren Sammy says he deserves his place in the current side based on the strength of his bowling, and is eyeing a world top five spot for his side in four years time.
The all-rounder's place in the regional squad has repeatedly come under scrutiny since he took up the post as skipper last November, but he held his own with the ball in the recent series against Pakistan and India.
"I think I have justified my selection as a bowler in the team. My batting has obviously not been up to scratch. It's something I have to work on," ESPN Cricinfo quoted the 27-year-old as saying.
"If I look at my Test record it is okay. In every team somebody will always be the fall guy. So far it's always been me. It's  tough luck on Kemar (Roach) [who was left out for the India Tests].
"At the end of the day the selectors pick the team. What's good is that we have competition for spots in the bowling department."
The right-arm medium pacer finished with seven wickets in the three-Test series against India, including a best haul of four for 52 in the opening Test at Sabina Park in Jamaica.
In the two-test series against Pakistan, Sammy claimed 10 wickets including a five-wicket haul in the opening match in Guyana that helped bowled the Windies to a 40-run victory.
Overall, he has taken 46 wickets in 16 Tests at an average of 29.
Sammy said, however, that the West Indies were heading in the right direction and one of the aims was to spearhead the side into the top five in the world by 2015.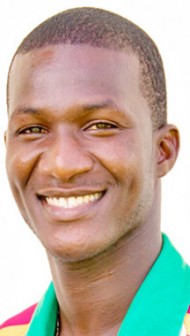 "Obviously bringing the whole professional attitude into practice properly and getting fit [are top of the agenda]," Sammy explained.
"I believe the fitter you are, the more right decisions you will make. You will not cramp up under pressure. Being in the top five by 2015 and building a strong team that will go out and compete against anybody [are also part of the plan]."
West Indies are currently seventh in the world in the International Cricket Council Test rankings, and are now only two rating points behind sixth place Pakistan.
Sammy said it was also important to continue changing the culture of the team if the side were to be successful.
"If you noticed over the last couple of years, we have been rotating the same guys. So now we are exposing a few more players, getting the right system, the right work ethic to go out and represent West Indies," he pointed out.
"[We need to] start changing the whole laidback type of culture, just strictly being professional. Knowing what to do for the team, and doing whatever it takes to make the team win [are our goals]."
Around the Web