LAVAUR, France, (Reuters) – Riders and organisers  need to sit down together to resolve the safety issues that have  marred this year's Tour de France, according to seasoned  professional rider David Millar.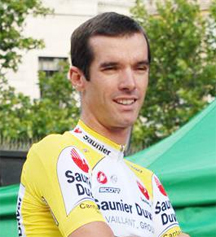 Several leading contenders have been forced to pull out of  the race with broken bones after a series of spectacular crashes  during the first week and Millar, himself, took a tumble last  Sunday.
The Scot, who turned professional in 1997, rode in this  year's Giro d'Italia, one of the hardest grand Tours in the  modern era.
"The Giro has always been a bit more crazy, at times more  dangerous, and I think the Tour is attempting to be more like  the Giro which is making the Tour more dangerous now, which it  does not need to be," Millar told Reuters in an interview yesterday before the start of the 11th stage.
"That's a bit if a shame, I don't think the Tour should be  trying to copy the Giro."
"They're definitely trying to make the racing look more  spectacular, for the spectators, and to the detriment of our  safety at times.
"It's the way it goes, the organisers push the limits until  they pass them and we're getting quite close to passing the  limits of what is reasonable and I think there might need to be a rethink. Professional riders, who have their own association,  the CPA, have yet to talk about the problems they have been  facing on the Tour and elsewhere."
Millar said riders did not talk about their problems.
"Everyone is just looking after themselves, that's another  part of the problem.
This is the highest stress environment that  we experience as cyclists. There is no chit chat, there is no  discussion," he said.
However, he said, the organisers were not solely responsible  for the crashes.
"We as riders hold a lot of responsibility as well, we race  irresponsibly at times and don't look after each other, I think  a lot of the blame has to be put on us, the riders and not just  the organisers," he said.
Around the Web