Elishaba Johnson and Paul Meusa yesterday received $20,000 each as donations towards acquiring table tennis equipment from FAB-STAR Pre-FAB Steel Buildings on Regent and Cummings streets.
Johnson is a 13-years-and-under player on the rise as he recently won his category at the just-concluded Independence Day Table Tennis Tournament while Meusa finished second to Nigel Bryan in the Men's Single's competition.
Marketing Manager of FAB-STAR, Lisa McLean stated that their small donation is to aid the players with better equipment as they are looking to develop the lesser recognized sporting disciplines.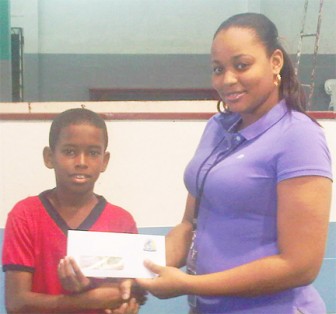 "We cannot seek the achievements of ourselves and forget about the progress and prosperity of our community. Our ambition at FAB-STAR makes it  imperative for us to contribute to the development of the sporting sector, especially in the less recognized disciplines that have the greatest potential and talents," McLean stated.
Meanwhile Meusa will leave tomorrow to participate in the Bolivarian Alliance for the Peoples of Our America (ALBA) Games from July 17-30 in Venezuela while Johnson will head out on Monday to participate in the Mini-Cadets Championships from July 19-25 in the Dominican Republic.
Around the Web