(Trinidad Express) Cricket legend Brian Lara on Thursday expressed concern that his family name was at stake, given the controversies surrounding two troubled institutions named after him— the Cancer Treatment Centre at St Clair and the cricket stadium at Tarouba.
"I am concerned," he said when asked about reports that the hospital had unknowingly administered overdoses of radiation to more than 200 cancer patients, and that the Tarouba Stadium, six years after start of construction, will take another TT$200 million to complete. He added: "Most importantly, I am very concerned. All these different happenings and it's not just myself, it has to do with. It's my name, it's my family, and I trust that a few people are ensuring that the Lara name and the brand stays at the highest level."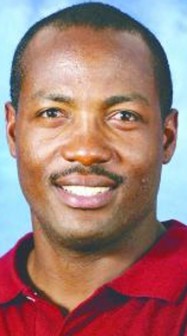 Officials at the Brian Lara Cancer Treatment Centre on Thursday held a press conference to defend its treatment of 223 patients who the Ministry of Health has said received overdoses of radiation during the period 2009-2010.
The centre has said that the overdoses were within acceptable limits.
Last month, Housing and Environment Minister Roodal Moonilal, who has oversight of the Urban Development Corporation (UDeCOTT), visited the Brian Lara Cricket Stadium.
He found an overgrown cricket field, flooded locker rooms, cracked walls, incomplete ceilings and a roof that did not protect against the rain.
Moonilal said the stadium, meant to open before the 2007 Cricket World Cup hosted in the Caribbean, would cost TT$1.1 billion by the time it was done.
Speaking on Thursday at his Knaggs Hill off Lady Chancellor Road, St Clair, home where he had lunch with top male Secondary Entrance Assessment (SEA) pupil Rai Rooplal, Lara said he was waiting on the right time to have his say on the issues.
He said: "Obviously I know it's necessary that I do say something very soon, but I don't want to say it out of turn. And I want to ensure that I know the facts. I want to speak at the right time and I think it's going to be very soon. And obviously I would let the public know how I feel about it."
On the Tarouba stadium, he said: "You know it's going to have problems. It's now a major problem."
On the cancer centre, he said: "Looking at the medical centre you know medical institutions go through tough periods. You know health is a very, very important issue. The fact that my mom passed away from cancer is one of the reasons that I got involved.
"As I said there are always two sides to the story. I am concerned and I will speak at the right time."
Around the Web