Boys' 13–14 age group swimmer Omari Dunn achieved three new seed timings while Soroya Simmons and Athena Gaskin both swam Goodwill qualifying times when competition in the Guyana Amateur Swimming Association (GASA) Goodwill Games Time Trials concluded yesterday at the Castellani Swimming Pool, Homestretch Avenue.
The competition which was originally scheduled for three days was cut short to one day because of the low turnout of swimmers.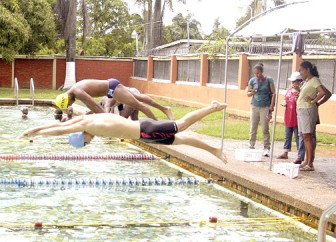 Gaskin, who swims in the girls 15 – 17 years category, swam a Goodwill "B" time in the 200m freestyle, an event she had already qualified for since earlier this year at the GASA Independence Meet.
Simmons also swam Goodwill timings in events that she has already qualified for since earlier this year. The 14-year-old won the 50m butterfly (35.60s), 50m backstroke (34.56s), and the 100m backstroke (1:17.90s), all in Goodwill "B" timings.
Gaskin and Simmons are among 14 swimmers who have all already achieved at least one Goodwill Games qualifying time at earlier held meets.
The collection includes Goodwill Games gold medallist Britany van Lange, who has already qualified for 10 events, but did not be take part in the trials as she was scheduled to depart Guyana today for Shanghai, China where she will be participating in the FINA World Championships.
Guyana's Jessica Stephenson also swam qualifying times for the event earlier this year. However she would be barred from participating at the event as she participated in and won medals at the Carifta Swimming Championships.
With the Goodwill Games being a developmental meet, the protocol does not allow for swimmers who have participated in higher level meets to be included.
And while Guyana is allowed to include swimmers who participated due to the country's relative disadvantages, medallists are not allowed to participate.
Gaskin has already qualified for four other events in addition to the 200m freestyle. Gaskin has four Goodwill "B" qualifying times in the 50m freestyle (30.32s), 100m freestyle (1:06.68s), 50m breaststroke (40.42s) and the 100m breaststroke events (1:26.28s).
Meanwhile, though he was unable to achieve any Goodwill qualifying times Dunn won all of his events for the day while managing new seed timings in three of his four events.
According to results from the GASA, Dunn has new seed timings in the 50m backstroke (38.67s), 50m freestyle (31.68s), and the 100m freestyle events (1:10.70s). Dunn also participated in the 50m breaststroke which he finished in 39.87 seconds.
Also registering new seed timings in the boys 13 – 14 category was Omar Adams, who restructured his timings in the 200m freestyle and the 100m backstroke, which he won in 2:39.16s and 1:32.86s respectively.
Adams had new personal best ties in his 50m backstroke (40.02s) and 100m freestyle (1:13.20s), despite coming in second behind Dunn in both events.
Around the Web