Olympian Niall Roberts and Goodwill Games gold medallist Brittany van Lange were scheduled to depart today for Shanghai, China to participate in the International Swimming Federation (FINA) World Championships at the Shanghai Oriental Sports Centre.
The championships which feature events in five aquatic disciplines including water polo, diving, open water, and synchronized swimming officially began yesterday. The swimming segment, in which Roberts and van Lange will compete, starts on July 24 and the entire event ends on July 31.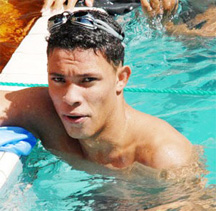 Roberts is going into the competition in full confidence in his ability to perform creditably. This is Roberts' third outing at the Championship, having participated in 2007 when it was held in Melbourne, Australia, then again in 2009.
"I've got a high level of confidence going into this meet," he said. "My mind really seems to be in the game. I'm pumped, everything has been going well. I'm really excited to go there and compete. I know what is out there. I'm not going in nervous at all like I usually am. I'm confident this time around. Right now to me it's just like another year at the World Games."
Roberts shared that he feels he is at his best that he could be given the training he has been able to do in preparation for the event.
"I think I'm the best I could be right now with the amount of pool time allotted to us. Of course if we were able to swim more it would have allowed me to be better prepared, but I'm feeling great right now. I think I'm going to go out there and do my best times, my 50 free is feeling good. I feel fast."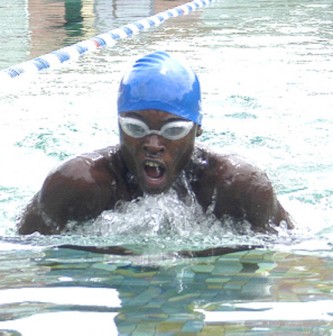 Roberts will be participating in the men's 100m and 50m freestyle events, on July 27 and 29 respectively.
Roberts has high hopes pinned on his performance at the championships given that he is still gunning after qualifying times to participate at the 2011 Pan American Games that will be held in October in Guadalajara, Mexico. In addition, Roberts is also hopeful of gaining FINA points to assist in his pursuit towards earning a wildcard to participate at the 2012 Olympics.
Meanwhile, van Lange is looking at some more personal best timing as she goes into the competition. The national record holder said she still feels anxious about her performance.
"I feel 50/50 right now, I'm a bit confident in how I will do, but at the same time I'm just a little bit nervous. But I'm really looking forward to this and I'm looking forward to gaining the experience." This is van Lange's first year at the event, but her second time attending a world championship event. She represented Guyana last December at the World Short Course Championship in Dubai.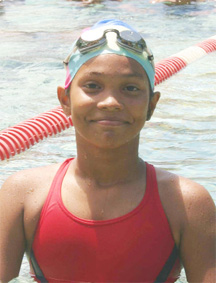 Roberts and van Lange were selected by the Guyana Amateur Swimming Association (GASA) earlier this year, along with Carifta Swimming Championships multiple gold medallist Jessica Stephenson, to represent Guyana at the event.
With none of the swimmers having attained qualifying times to participate at the championships, Guyana was granted three universality places. The three were selected based on the internationally recognized FINA points system in which their timings are converted into points, according to GASA Vice President (Technical), John Perreira.
Stephenson, who resides in Trinidad, left for Shanghai since Thursday travelling along with her mother Devina Stephenson.
The swimmers will each be allowed to participate in two events. Stephenson is listed to take part in the 100m and 200m breaststroke on July 25 and 26, while van Lange's her first event, on July 26 is the women's 200m freestyle. The 16-year-old is also listed for the 100m freestyle, set for July 28.
Roberts and van Lange will be travelling with Coach Stephanie Fraser and President of the Guyana Amateur Swimming Association Alex Graham, who will be attending a Special Congress during the duration of the championship. The team is scheduled to return on August 2.
Around the Web