MONTPELLIER, France,  (Reuters) – With a week left in  the Tour de France, only one person is absolutely convinced that  Frenchman Thomas Voeckler cannot win the race in Paris –  Voeckler himself.
The yellow jersey holder, who fought on an equal footing  with the leading Tour contenders in the Pyrenees, has received  the support of the best riders in     the sport, from Lance  Armstrong to Alberto Contador.
"For sure Voeckler is a contender. His shape is unbelievable  and he has great support from his team," said three-times Tour  champion Contador at the end of the 15th stage in Montpellier yesterday. "I am several minutes behind him and it will be hard to  take them back."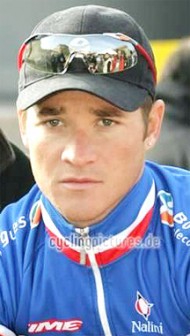 On Saturday, which featured the final Pyrenees stage,  Armstrong also spoke up for the Frenchman on his Twitter feed,  saying: "If Voeckler makes it to the top with the leaders today  then we have to say he can win the TdF. He's got two minutes and  they can't shake him."
The Frenchman should be confident, leading closest rival  Frank Schleck of Luxembourg by one minute 49 seconds and  Australia's Cadel Evans by 2:06 after Sunday's stage.
Yet Voeckler himself is not so sure.
"It's flattering but I don't believe it for a second to be  honest," he said. "I'm going to fight for sure, but I can't be  dishonest – I believe I have zero chance to win the Tour de  France."
Never regarded as a great climber or all-rounder in spite of  many prestigious victories in his career, including two Tour  stages, Voeckler seems to have reached new heights at 32.
He feels, however, that the final week in the Alps will be  too hard for him to keep his rivals at bay.
"It would be a great joy to follow the best in the Alps, but  I don't feel I'm up to the task in the high mountains," he said.
"There is still a week to go and the whole Tour has been  designed for this last week to be decisive.
"I know that France has been waiting for a French win since  (Bernard) Hinault (in 1985) and for a podium since Richard  Virenque (second in 1997), but I'm not going to lie to the  public; I cannot tell them I have a chance to win."
Around the Web