In what was the largest turnout of shooters this national,  Smallbore captain, Dale Hing and Rawle Stephens, won their respective categories at the North American Resources Limited-sponsored Practical Pistol shooting event. The event, which attracted 21 shooters, was staged Sunday at the Timehri Ranges in ideal weather conditions.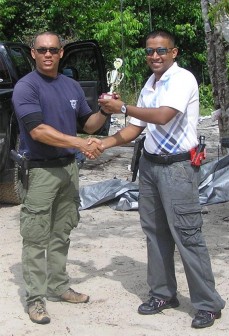 The shoot consisted of four stages with a category for regular shooters and another for beginners/novices inclusive of females.
Hing proved too strong for his opponents winning three of the four stages in the Regulars category while arch-rival Ryan McKinnon secured victory in the other stage.
The overall results in the Regular category were Hing (first), McKinnon (second), Mohamed Qualander (third), Ian Rogers (fourth) and David Dharry (fifth).
Stephens displayed an impressive performance in also winning three stages in the Beginners/Novices category to come out victorious.
Pravesh Harry secured the other win.
The overall results in the Novices division were Stephens (first), Harry (second), Sarah Piggott (third), Craig Morrison (fourth) and Vidushi Persaud (fifth).
Around the Web