The stage is all set for this weekend's Digcel sponsored Horse Race Classic scheduled for the Norman Singh Turf Club, Number Six Village, West Coast Berbice.
This was disclosed yesterday at a press conference by Digicel's Shonnett Moore and Compton Sancho, Organizing Secretary of the Norman Singh Turf Club.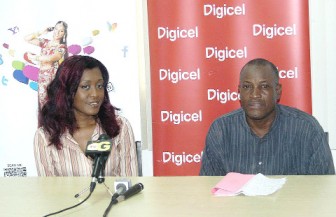 At the press conference held at the telecommunications giant head office, Barrack Street, Kingston, Sancho was full of praise for Digicel.
In thanking the "Bigger, Better Network" for the sponsorship, Sancho also revealed that he had been seeking sponsorship from the company for a while and was glad that he was finally successful.
Moore, in brief remarks stated that Digicel was pleased to be sponsoring this inaugural horse race meet.
The meet, which will start on noon, will feature 10 events.
One of the feature events, the B-Class and lower-class category, will see the winner walking away with 1.2 million while the second, third and  fourth placed finishers will receive $600,000, $300,000 and $150,000.
The total prize money will be over 10 million dollars and patrons are encouraged to come out and support the event.
Some of the horses, some of whom  have exotic names, that are  expected to entertain the public range from Zilic Marathon Man, Wada Luck, Night Crescendo, Prince Charming, The Message, Face The Music, Better Than Gold, Better Than Joy and Face The Fire to name a few.
Around the Web