A former national champion believes the Guyana Chess Federation (GCF) is on the right track with its Junior Development Programme.
In an exclusive interview with Stabroek Sport Canadian-based Guyanese Raymond Singh who was a national champion in the late 1980s said he was heartened by the initiative of the GCF and he applauded current President Shiv Nandalall and the current executives for organizing programmes for young players.
Singh who assisted in training the players at the GCF's "Introduction to Chess" Workshop yesterday  at the Carifesta Sports Complex said that a leading player may emerge from the enthusiastic youngsters that turned up for the Workshop.
"These programmes could help the GCF to move leaps and bounds and the sport will make excellent progress locally," Singh said.
He remarked that exposure is critical to the players' development and he urged officials of the GCF to continue their investment in young players.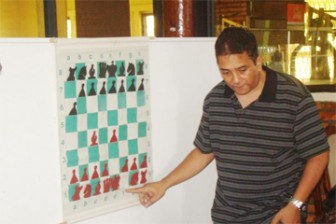 Singh said he is still an active player in Canada and has the rating of a chess master.
According to Singh, he competes in tournaments in Toronto, Hamilton and Ajax among other areas in Canada and he is in contact with a few former local players such as Marlon Wood, Dr. Trevor Duncan, Aggrey Duncan and Ian Bynoe.
Over 40 students attended yesterday's Workshop said Chess Trainer Alex Joseph.
According to Joseph, the Federation has started a programme to target disadvantaged communities. He said children from Tiger Bay attended sessions on Main Street where GT&T provided an area in the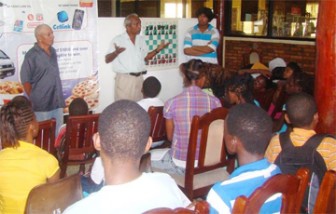 avenue for playing chess.
The GCF also held outreach tournaments in Linden in May.
Also present at yesterday's Workshop were GCF President Nandalall, National champion Taffin Khan and Secretary of the Federation Vishnu Rampersaud.
Meanwhile, the Banks Malta sponsored one-day Rapid Chess tournament will take place today for players in West Demerara.
The tournament will be held  at the West Demerara Secondary School starting at 10:00 hours.
Around the Web