NUERBURGRING, Germany, (Reuters) – Lewis Hamilton  was almost speechless yesterday after producing a stunning lap  to bounce Sebastian Vettel off the front row at the German's  home Grand Prix.
The McLaren driver has not made life easy for himself this  season, from being hauled in front of the stewards to idle chat  with Vettel's Red Bull team, but there was nothing controversial  about his qualifying performance.
The Briton predicted on his arrival at the Nuerburgring that  he had no chance of being close to the top slot on the grid and  then stunned everyone with second place next to Red Bull's  polesitter Mark Webber.
Even more impressive was the fact that Hamilton relegated  runaway overall leader Vettel to third — the first time the  24-year-old Formula One world champion has missed the front row  in 15 races.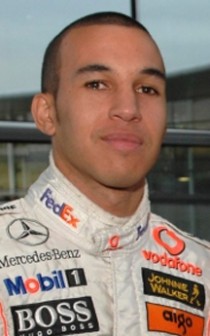 Hamilton, 95 points behind Vettel with 10 races left, looked  competitive again with his surge from 10th to fourth in Britain  two weeks ago also helping.
"I wasn't expecting the car to feel so great," beamed the  2008 champion, pleased that the engine controversy which hit  Silverstone has been put to bed and seemingly boosted his  chances.
"I don't think anyone in the team imagined we'd be this  close to the Red Bulls and split them. A fantastic job from the  guys. I feel incredible."
He later told reporters: "I'm kind of speechless. It really  just felt so comfortable. I don't know where I found the time. I  was just thinking I'm going to get a recording if I can of the  on-board footage because I'd love to see the lap.
"I think my lap was above and beyond the limit."
Hamilton has had numerous visits to the stewards this year  over collisions, controversial comments and was fined for  speeding in the pitlane on Friday.
A more high profile visit was his trip to talk to Red Bull  team principal Christian Horner at the Canadian Grand Prix,  sparking speculation about his McLaren future.
He had said after Silverstone that he needed a break to  recharge his batteries and he did that.
Team mate Jenson Button, down in seventh on the grid, was  less content about his afternoon.
"I really struggled actually," Button said. "It was very  strange the car couldn't find the grip out there. It was pretty  terrible. Something isn't working."
Around the Web