GRENOBLE, France, (Reuters) – They came to win the  Tour de France but the Schleck brothers were still happy to  settle for less after being humbled by Cadel Evans in yesterday's  final time trial. Andy Schleck is set to finish runner-up for a third  successive year while his older brother Frank will be on a grand  Tour podium for the first time.
"It's a dream come true, finishing both on the podium. It's  fantastic," Frank told reporters after taking 20th place in the  42.5-km time trial around Grenoble.
"I think it's mission accomplished, I don't have any  regrets," said Andy, 17th in the time trial now trailing  Australian Evans by one minute 34 seconds going into Sunday's  parade to the Champs Elysees in Paris.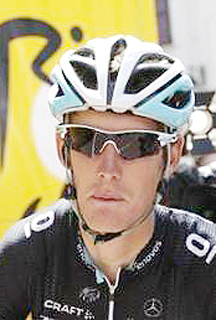 "The goal was to reach Paris without regrets and I have no  regrets," added Frank. "We gave everything and finishing second and third in Paris  is fantastic for a team that was born only six months ago." The brothers left Bjarne Riis's Saxo Bank team at the end of  last season to launch their own outfit, Leopard-Trek, taking  with them several riders from their previous team. Both promised they would be back next year to win the race. "Everybody is happy but I am still a little bit disappointed  because I wanted to win. But I'm only 26, I will be back and I  will be back to win," said Andy, who unsettled Evans and  three-times champion Alberto Contador with a long range attack  in a gruelling Alpine stage on Thursday.
He took the yellow jersey 24 hours later but time-trial  specialist Evans overhauled that advantage yesterday.
Evans checked out the hilly Grenoble course four times,  including once in race conditions at last month's Criterium du  Dauphine. In contrast, the Schleck brothers opted to compete in the  Tour of Switzerland and laid eyes on the 42.5 km route for the  first time on yesterday morning. "We don't need a lot more to win the Tour," said Frank."We are the only ones who have attacked Cadel but he was  very strong."
Contador, though, also attacked Evans on Friday when he  jumped from the pack after only 15 kilometres.
The Schleck brothers, however, conceded Evans was the  strongest of the field this year.    "Today he was the strongest and I think he deserved to win,"  said Frank.
Around the Web