NUERBURGRING, Germany, (Reuters) – McLaren's Lewis  Hamilton produced a monumental drive to take his second win of  the season in the German Formula One Grand Prix after an  enthralling battle with Ferrari's second-placed Fernando Alonso  and Mark Webber yesterday.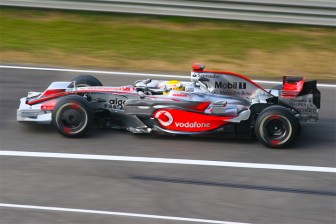 The only disappointment for the local supporters was Red  Bull's titleholder and championship leader Sebastian Vettel  struggling in his home race to finish fourth as rain just about  held off.
Vettel's run of 11 successive podium finishes ended but the  24-year-old saw his overall lead trimmed by just three points  over team mate Webber to 77 with nine races left.  Pole sitter Webber, who finally led a lap for the first time  this year, had watched Vettel win six of the previous nine races  while finishing in the top two each time.
This time, both Red Bulls were outshone by the flying Briton  who started on the front row and seized the lead into the first  corner.
"We never expected to come here and be so fast," 2008  champion Hamilton, who leapfrogged Spaniard Alonso into third in  the standings, told a news conference.
"It's one of the best races I think I have done. It was  really fantastic for me to make that step forward."
Vettel has 216 points, Webber 139, Hamilton 134 and double  world champion Alonso 130.
Hamilton, who said he had no chance of pole before seizing  second on the grid, made a great start while Alonso also got  past Vettel only to soon lose the initiative.
As the front five predictably pulled away from the pack,  Alonso — who won last time in Britain for Ferrari's first  victory of the season — retook the struggling Vettel in style  at turn one of the ninth lap.
Further drama ensued when Webber, who was only the third man  since 1995 to win here from pole two years ago, edged ahead of  Hamilton only for the pumped-up Briton to immediately retake the  lead with a courageous move down the straight.
Despite rain in the air, the teams began on dry tyres and by  the time they first pitted the risk of a traditional downpour in  the Eifel mountains looked to have receded.
"Bad day"
Red Bull performed their usual heroics in the pits to get  Webber back out in front of Hamilton but by the second round of  pit stops Alonso found himself ahead before an outrageous pass  by the McLaren sent the Briton clear.
A third pit stop had Hamilton just coming out in front and  he surged towards the chequered flag for his 16th career win.
Alonso then stopped his car on track after running out of  fuel on the slowing down lap and hitched a lift on Webber's Red  Bull back to the pits.
"I think it was nice to watch — the fight of all three,"  Alonso said.
Vettel slipped behind Ferrari's resurgent Felipe Massa only  to retake fourth late on when both pitted at the same time in  dramatic fashion and Ferrari reacted more slowly.
"We've got to attack every weekend and Seb's mentality means  he's not looking at the leaderboard at the moment," Red Bull  team principal Christian Horner said.
"He's conscious of it but on a weekend where he hasn't been  the standout quickest driver, obviously consolidating and  picking up those points and a fourth place on a bad day is not  too bad."
Lower down the field, McLaren's Jenson Button retired with a  hydraulics problem when in sixth place.
Michael Schumacher's miserable time continued as he spun on  a corner under no pressure to leave Mercedes fans shaking their  heads although he recovered to finish eighth.
Germany's Nick Heidfeld crashed out in the Renault after a  collision with Toro Rosso's Sebastien Buemi, who had started  from the back of the grid after being banished for a fuel  irregularity.
Around the Web