Seventeen-year-old Carlos Petterson won the Banks Malta one-day Rapid Chess Tournament Sunday at the West Demerara Secondary School, Pouderoyen. The former Dolphin Secondary school student played unbeaten in the tournament and recorded seven and a half points in capturing the title.
Petterson scored seven wins and a draw in a dominant showing following his return to competition after a year's absence.
He carted off the Winner's trophy, a tournament size chess set and a Banks Malta travelling bag for his efforts.
President of the Guyana Chess Federation (GCF)Shiv Nandalall said that youths dominated the tournament which attracted players from West Demerara and Georgetown.
Twelve-year-old Tevon Blaize of Charlestown Secondary captured the second position with six and a half points. He copped the second place trophy, a tournament size chess set and a Banks Malta Bag.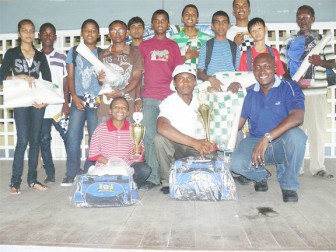 Senior player Abdool Karamat finished in third place while West Demerara Secondary student Ganesh Persaud was fourth.  Over a dozen chess sets were presented by to participants by Banks Malta Brand Manager Clayton McKenzie who attended the event.
Banks DIH Communications Manager Troy Peters said his company was pleased to be associated with the tournament noting that chess is making rapid strides locally.
Peters said the Federation's investment in youths is paying off as it reflected in the results of the tournament with the younger players gaining the upper hand over their senior counterparts.
According to Nandalall the GCF is actively promoting the popular board game and chess sets presented to prizewinners will further boost the expansion of the game.
Saturday, the GCF organized an "Introduction to Chess" Workshop at the Carifesta Sports Complex which was attended by over 40 students.
Former national champion Raymond Singh who is visiting from Canada also assisted in Saturday's Workshop.
Around the Web