Georgetown, Guyana – After two rounds of matches in the West Indies Cricket Board's Under-19 three-day tournament, left-arm spinner Derone Davis has emerged as one of the leading bowlers.
The allrounder is one of Trinidad and Tobago's go-to players and he has done a good job in both matches. In the opening round he took five wickets for 79 from 29.2 overs but Trinidad and Tobago lost to Jamaica by 10 wickets at Everest. The Trinidadians bounced back in the second round with a comfortable eight-wicket win over the Windwards at the Guyana National Stadium. Davis starred with seven wickets in the match – five for 45 off 22 overs in the first innings and two for 34 off 32 overs in the second.
Davis spoke after Sunday's victory and said he is looking to take his good form into the upcoming matches and hopefully that could spur Trinidad and Tobago to the title. His basic game plan is always to "keep it simple and learn with every day" on the cricket field.
"Right now my aim is just to stick to the basics and work with the game plan and build as much pressure as possible on the batsmen. My main asset is my accuracy and that has worked for me. I also try to work on my variations on these pitches," the 18-year-old said.
"Even though the ball is turning a bit, the pitches are slow, so you have to look at things like quicker balls, slowing it up in the air and really working out the batsmen. I have always been that kind of bowler. I like to dry up the runs and try to force the batsmen to look for scoring options. I am a steady bowler, always looking to do the job for the team."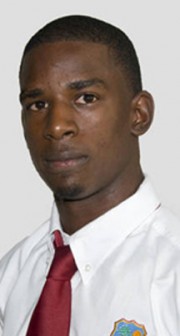 Davis is also a reliable left-handed batsman and excellent fielder. He got two starts without carrying on – 25 against Jamaica in the second innings and 29 against Windwards. He showed his athleticism in the outfield with a brilliant one-handed pick-up and direct hit to earn a vital wicket at a crucial stage in the Windwards first innings.
"Every game is a learning step. Every day on the field is a chance to learn more. I always try to do what the team requires and that helps to keep me in the game as well. This is my second year at this level so I am one of the players expected to make a big contribution.
As a team, we did not do so well in the first match against Jamaica. We bounced really well to get a good win against the defending champions and that really motivated the entire team."
Davis was selected on the West Indies Under-19 team to Dubai and Florida earlier this year. He is a sixth form student at Presentation College, Chaguanas and is hoping to enter the University of the West Indies in September to study Sports Science. At home he plays for Clarke Road Cricket Club.
"Playing club cricket is a good experience for me, seeing that they are a lot of senior people around to guide and to help. I have gained some valuable experience I am able to bring that knowledge here and help the T&T team," he said.
Around the Web