Guyana women's hockey players will go into action on Sunday against Paraguay in the Pan American Hockey Federation (PAHF) five-nation Challenge tournament in Brazil as they seek a place in the PAHF 2013 World Cup qualifiers.
The 18 players and officials will depart on Thursday by bus to neighbouring Suriname en route to the tournament to be staged at the Deodoro Hockey Complex in Rio de Janeiro,   Brazil.
The competing teams are Bermuda, Brazil, Guyana, Paraguay and Uruguay.
Team manager Rawl Davson said he was optimistic about his team's chances in the tournament which starts on Sunday and runs until August 7.
Davson said the first 20 minutes of the opening match will be critical as the players usually take some time to adjust to the artificial pitch.
He expects their performance to improve as the tournament progresses.
The Guyana Hockey Board named an 18-member squad to be captained diminutive midfield player Chantelle Fernandes who plays for Hikers Hockey Club.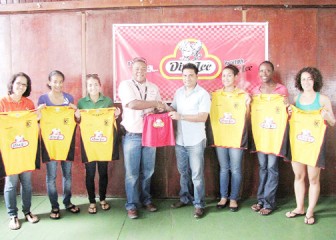 President of the Guyana Hockey Board Philip Fernandes is the head coach.
After their clash with Paraguay on Sunday, the Guyanese battle with Brazil next Monday, Bermuda on August 3 and Uruguay on August 6 in the round robin competition.
The top two teams will play in a final on August 7 and will be eligible to compete in the Pan American zone of the World Cup qualification competition joining heavyweights Argentina, United States of America, Canada, Chile, Trinidad and Tobago and Mexico who have already secured their places for the 2013 playoffs.
Meanwhile, the players have been outfitted with uniforms from two companies Dixie Lee Fast Food of Charity Essequibo and John Deere through its local distributors Farm Supply and General Equipment.
Operations Manager of Pomeroon Food and Beverage Inc. local franchise holders of Dixie Lee Leonard Faerber and Managing Director of Farm Supply Renger Van Dijk made presentations of the uniforms to team manager Rawl  Davson last week.
The Guyana squad reads  – Chantelle Fernandes (Captain), (Goalkeepers)  Jonelle Webster and Alysa Xavier, (Defenders )– Ulrica Sutherland (vice-captain), Marzana Fiedtkou, Talia Fiedtkou, Vashema Bourne, Marisha Rodrigues, Tiffany Solomon, (Midfielders) – Trisha Woodroffe, Maria Munroe, Leigh Sandison, Gabriella Xavier, (Strikers) – Avonda James, Ashley DeGroot, Dominique DeGroot, Amanda Garnett and Kerensa Fernandes.
Around the Web