By Treiston Joseph
National 400 metres junior champion Stephan James has etched his name into Guyana's history books by becoming the first junior sprinter to make it into a sprint final.
At the recently concluded Pan American Junior Championships held in Miami, Florida, James placed sixth in the final of the 400m clocking 48.37s.
The Pan American Games is a congregation of athletes from the Americas (north and south) along with athletes from the Caribbean which includes the Caribbean sprint giants, Jamaica.
Speaking with Stabroek Sport after he returned home yesterday James declared that he was proud of his performances.
"I honestly didn't know that I was the first but I am definitely proud of it, everything is a learning experience and I will definitely be stronger for next year especially since most of the guys in the final will be in the senior category next year," James commented.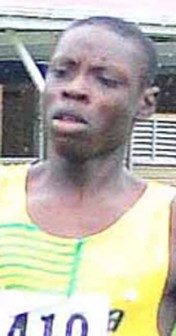 Speaking of his performance in the 400m event James said: "Well I felt really comfortable in the heats as I was first off the last turn, I then went into cruise control; that's when the American crept up on me but while I was warming down I felt some cramps in my calf muscle and I got a massage from an American coach and he along with our coach Lee Powell, told me it happened because I'm not accustomed to the rubber track.
"However, in the final, coming off the last turn I was in line with everybody but my calf affected me again and that's where I lost the race.
"I was affected by the same thing at Carifta as well," James explained.
James, who runs both the 200 and 400 metres, is more of 400 metres specialist as most of his outstanding performances have been in the quarter mile event.
He has claimed all the national junior 400 metres titles this year while becoming the first Guyanese in six years to make it to a Carifta sprint final earlier this year in the 400m. The eighteen-year-old James was bent on accomplishing his goal of attaining a medal at the prestigious event when he clocked 47.27s, the fourth fastest qualifying time out of the two heats.
However, some six hours after his heats, James, the first Guyanese in a sprint final at the championships, ran slower than his heat time as he clocked 48.37s for the sixth position at the prestigious Games.
James now has his sights set on making Guyana's Track and Field team for the Inter-Guiana Games. He also plans to make the Inter Guiana Games football team having been named in the training squad recently.
Around the Web